These 3-Ingredient Chocolate Chip Cookies are the the most amazing (and totally guilt-free) way to satisfy your cookie cravings!
I almost wouldn't even consider this a recipe. It's just me telling you to mix two things together for GREAT cookie satisfaction that you won't feel guilty about.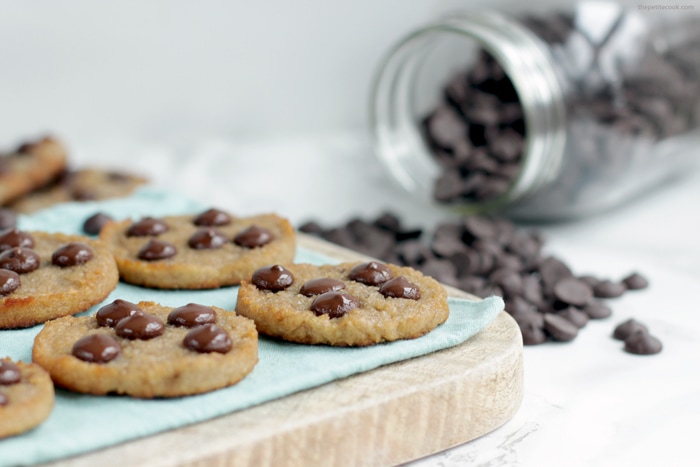 All you need is  3 simple ingredients you probably have in your kitchen already: a ripe banana, a cup of almond meal and chocolate, of course. You can leave the chocolate out, but you don't want to miss all the decadence and yumminess, do you? Mix all the first 2 ingredients together, top them with chocolate chips and you'll be less than 15 mins away from a whole bunch of super tasty cookies.
No flour, milk, eggs, baking soda, butter /oil or sugar needed. No need to buy any funny cookie mix box ( what's inside this stuff anyway?). Only 2 fantastic natural ingredients and  a bunch of chocolate chips. Can you believe it takes so little effort to make some delicious homemade healthy cookies?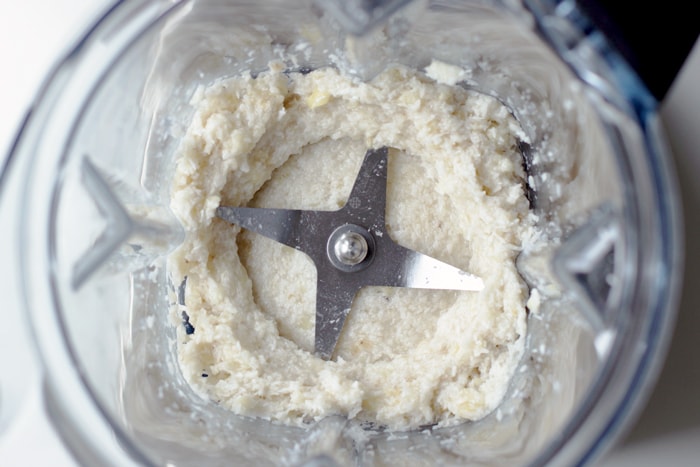 All you have to do is put a ripe banana and a cup of almond flour in a powerful blender ( I use a Vitamix), and mix until creamy and well combined.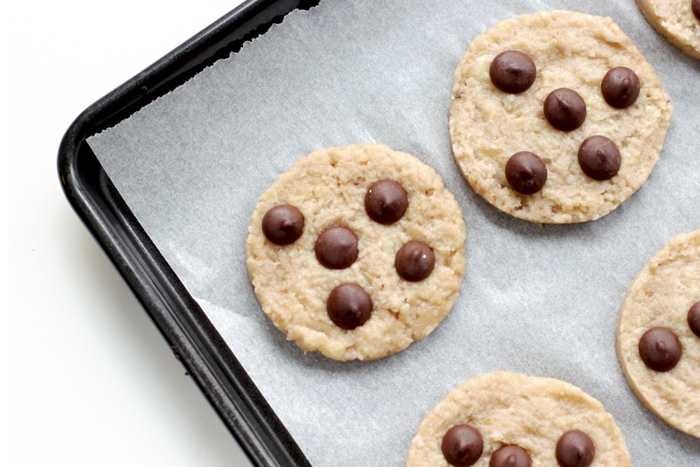 Drop tablespoon-size amounts of delicious cooking mixture on a baking tray lined with parchment paper. Make sure you leave about 2 inches space between the cookies. Top each cookie with some chocolate chips, 5 is the perfect number.
Bake for 15 min or until golden on top. Remove from the oven and allow to cool completely, I like them slightly chilled.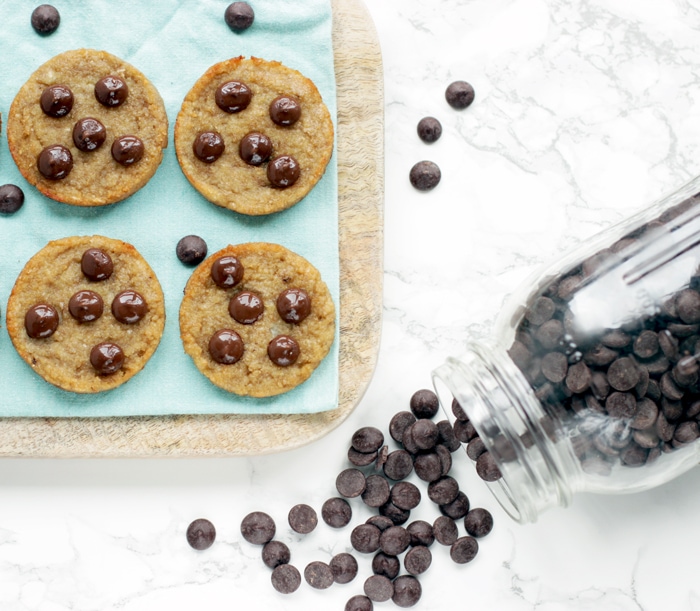 Now, grab a cookie and enjoy all the indulgent chewy goodness that is packed with.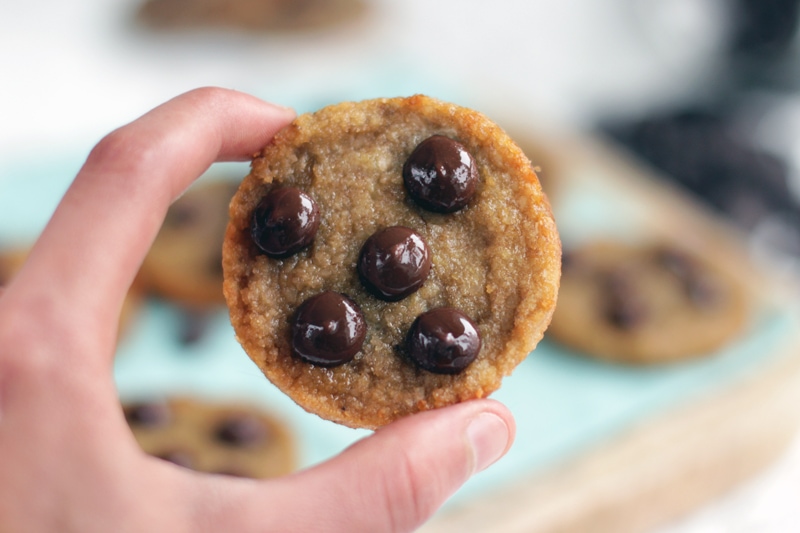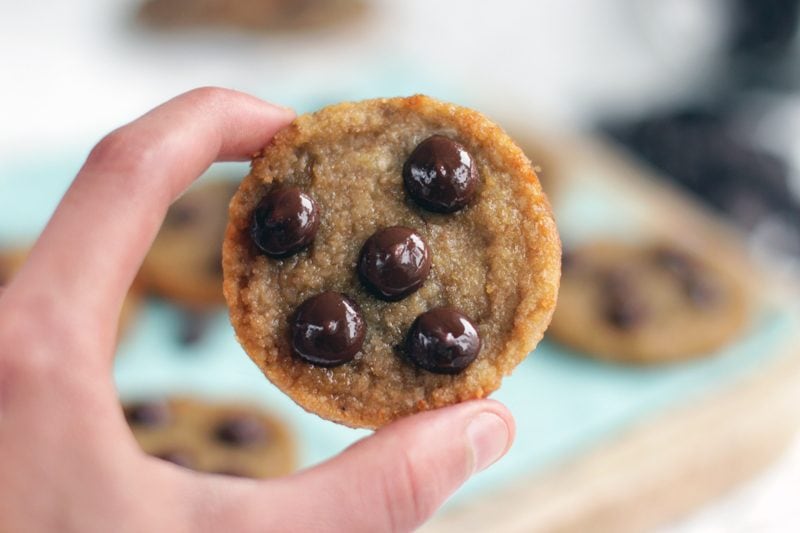 I love the banana + almond combo but you can easily customize these 3-Ingredient Chocolate Chip Cookies to meet your own taste. Some great combinations are:
banana + coconut flour
banana + ground pistachio nuts
banana + ground hazelnuts
Basically you can use any ground nuts you like, and top with anything you can dream of. I went for dark chocolate chips ( make sure to use high-quality 70% chocolate), but some of my favorite toppings include dried cranberries, crystallized ginger or orange peel, toasted almond flakes and dried chopped mango.
[easy-tweet tweet="Genius 3-Ingredient Chocolate Chip Cookies are totally vegan, #glutenfree and #guiltfree" user="petitecook"]
The best part about these cookies is that they are totally dairy-free, gluten-free, vegan, soy-free and anything else you can think of.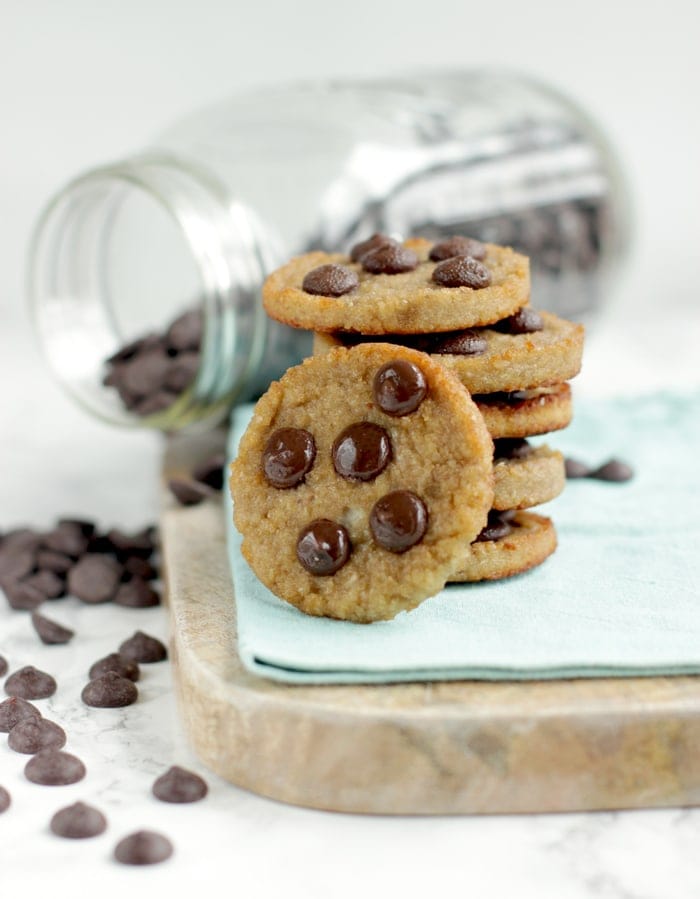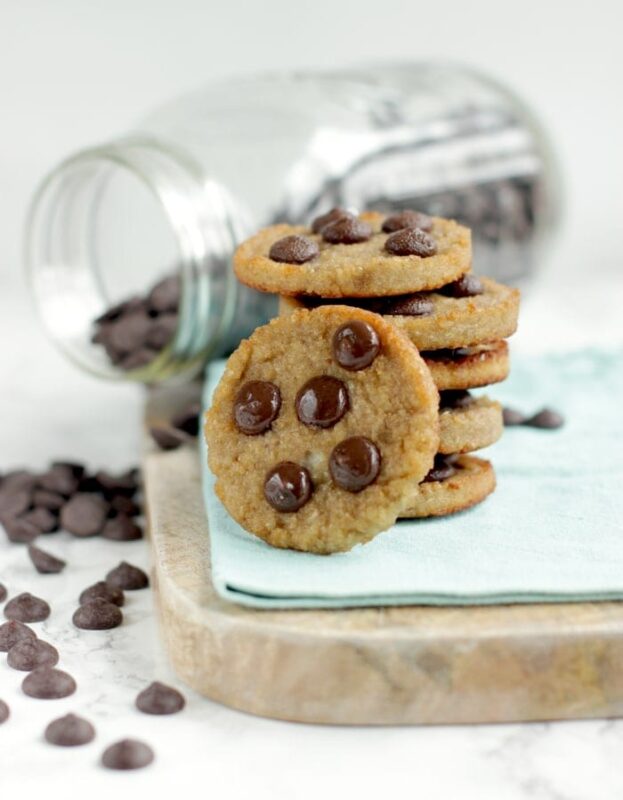 These magic 3-Ingredient Chocolate Chip Cookies are a great addition to breakfast or tea time, especially now that summer is almost gone and we're ready to welcome fall.
I'm sure you're gonna give these cookies a try, they're so incredibly quick and easy to make, even your kids can do it! If you make them, please leave a comment below and let me know how you liked them. And don't forget to take a picture, tag it #thepetitecook and share it with me on Instagram!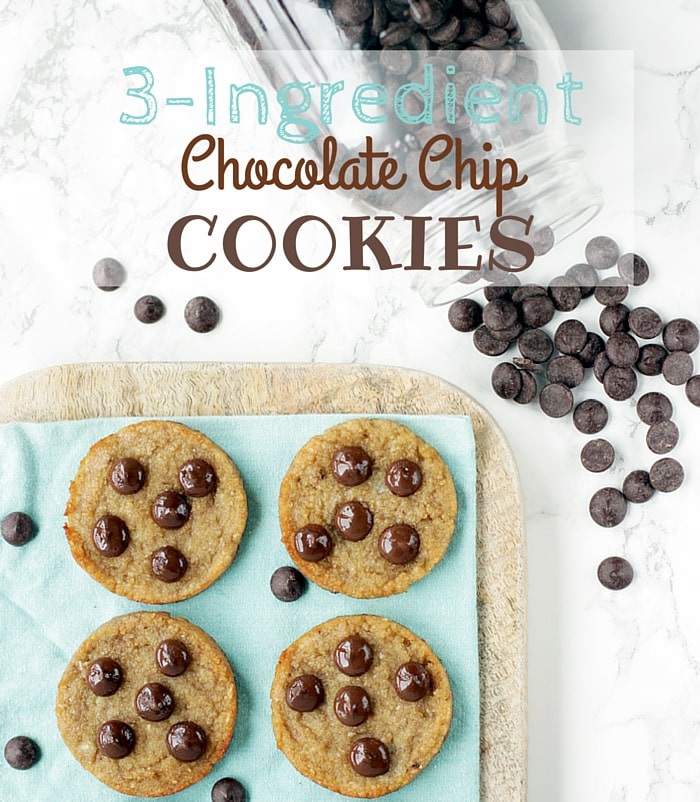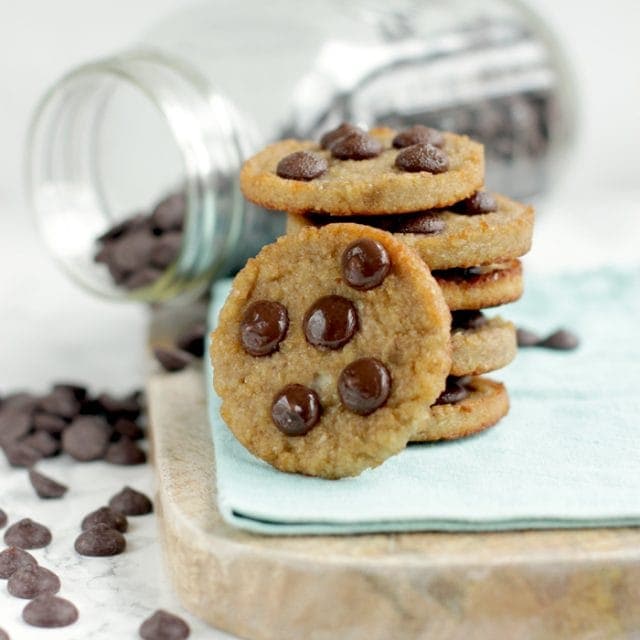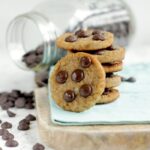 Print Recipe
3 Ingredients Chocolate Chip Cookies
Ingredients
1

large ripe banana

1

cup

/ 110gr almond meal

finely ground almonds

1/2

cup

/ 90gr dark chocolate chips to decorate
Instructions
Preheat oven to 350F / 180C.

Place a banana and almond meal in a powerful blender or food processor and blend until creamy.

Spray baking sheet with nonstick spray.

Drop full tablespoons of cookie dough on a baking tray covered with parchment paper, making sure to leave a space of 2 inches between the cookies.

Bake for 10-12 minutes or until cookies are set and golden on top.

Remove from oven and cool on wire rack.

Cookies will keep in an airtight container for a few days, or they can be frozen and reheated.
Notes
You can easily substitute almond meal (ground almonds) with coconut flour, finely ground pistachios or hazelnuts.