Happy 4th of July to all of you American friends!
I hope you're spending the day in the most beautiful way, surrounded by your friends and family, loads of laughs, love and obviously delicious food!
I'm on holiday in France right now, but before I took off I wanted to share with you a fantastic, healthy and super quick dessert to make last-minute. Because it always happens to need a last-minute dessert, no matter our plans!
This 4th of July brownie tart comes together in less than 45 mins start to finish and it's packed with healthy awesome ingredients, so you can indulge yourself in desserts ( and even have seconds) without feeling guilty. Indeed, there is a secretly delicious ingredient in the brownie mixture that you would never guess. What it is? The king of superfoods of course, avocado!
I've used the recipe of my healthy fudgy brownies I've posted a few days ago as a base for this patriotic tart. It's low in fat, gluten-free and dairy free ( but be careful the topping contains dairy).
The cannoli frosting on top is a little more indulgent, but made with ricotta cheese, one of the lightest and healthiest cheese in the world. It's by far my favorite cream and I use it with very little variations for anything from these cannoli truffles, or this blueberry cheesecake and of course for cannoli.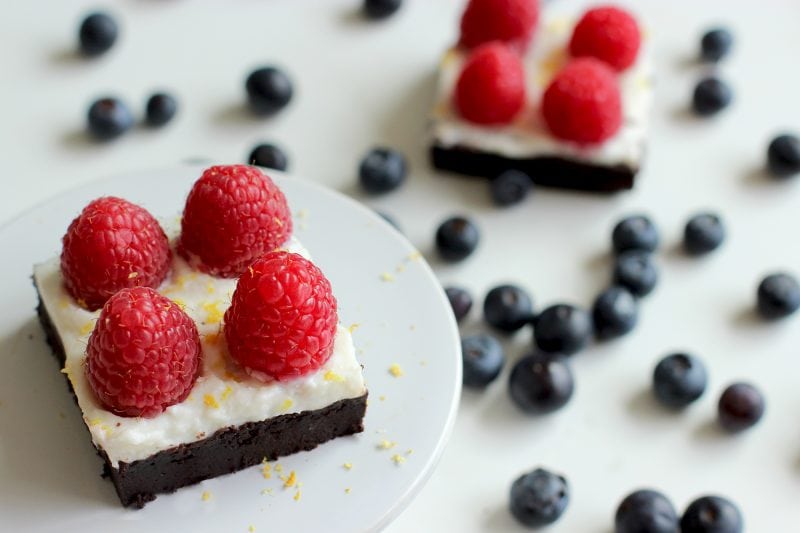 It couldn't be any easier to make, all you need is ricotta cheese, sugar, lemon and orange zest. All you have to do is work well with a whisk the ricotta and sugar until creamy, mix in the citrusy zest, et-voila', dessert is served!
Finish off your brownie tart with fresh blueberries and raspberries to make it totally 4th of July, but you can also use a mix strawberries and blackberries ( which sounds super delicious too!). The whole dessert is so easy to put together and absolutely no-messy, so you can have fun with the kids and ask them to help you.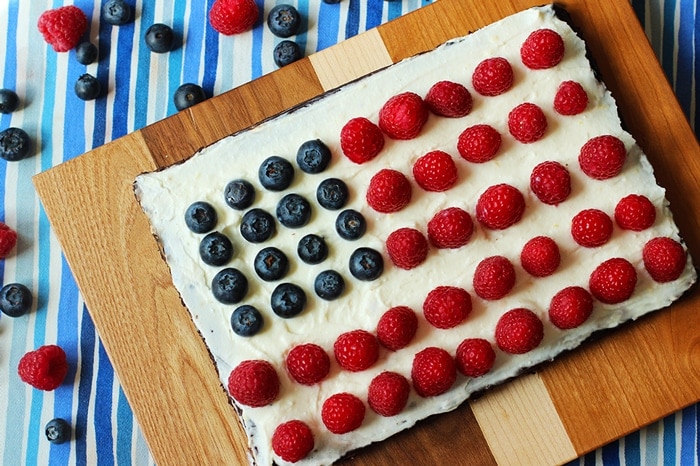 This mouthwatering 4th of July brownie tart makes a light last-minute patriotic dessert, but it's perfect to enjoy all-year-long!

4th of July Brownie Tart
This 4th of July Brownie Tart is a quick, healthy and delicious dessert to celebrate in the most patriotic way, but it's perfect to enjoy all-year-long!
Instructions
Spread the cannoli cream on top of your brownie base
Decorate with fresh raspberries and blueberries to make it resemble to the US flag.
Serve immediately or store in the fridge until needed.
Enoy!
Notes
For the cannoli cream simply follow the cannoli truffle mixture recipe and omit pistachios in the filling.