Fancy Hasselback Potatoes with Bacon and Greek Yogurt Dip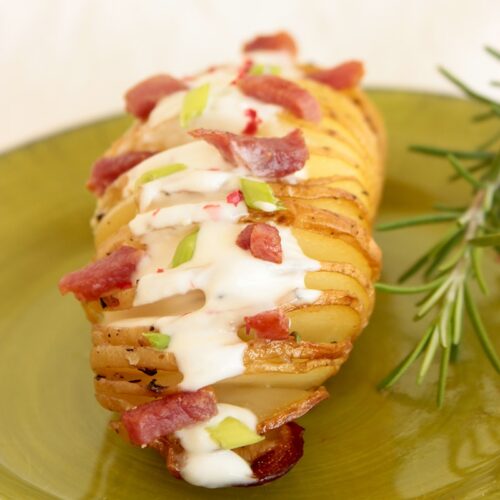 Recipe type:
Side, Main course
2 Large Yukon Golds or Russet potatoes
Extravirgin olive oil to drizzle
Sea salt & freshy cracked black pepper, to season
1 tbsp fresh thyme leaves
a pinch of paprika
2 tbsp roasted crumbled bacon bits
2 spring onion, finely chopped
½ cup Greek Yogurt
½ tsp lemon juice
1 pinch chili pepper flakes
salt & pepper to taste
Heat the oven to 425F/210C. Wash and pat dry the potatoes.
Lie a potato horizontally next to a wooden spoon. Start cutting into thin strip almost all the way through the potato, just until the knife blade hits the wooden spoon. This way you will avoid cute the potato completely.
Repet the method with the remaining potatoes.
Arrange them on a baking tray and drizzle or brush with olive oil. Season with sea salt and black pepper and sprinkle with thyme leaves.
Bake in the oven for about 1h and 10m, or until golden and crisp on top and cooked through.
Remove from the oven and allow to cool down a little.
In the meantime prepare the topping. In a bowl mix together all the ingredients and taste, adjusting for salt&pepper.
Serve the Hasselback potatoes on a large serving dish and top with the Greek yogurt and bacon dip.
Enjoy!
Recipe by
The Petite Cook
at https://www.thepetitecook.com/hasselback-potatoes-bacon-greek-yogurt-dip/