Homemade Love Oreo Cookies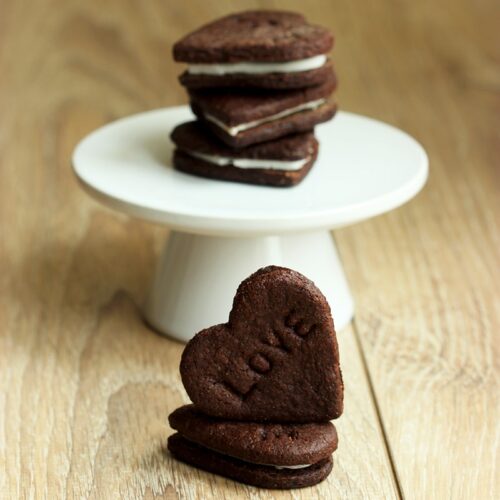 Recipe type:
Dessert, Cookies
2 sticks/ 228gr unsalted butter, softened
2 cups/ 400gr granulated sugar
1 tsp vanilla extract
1 large egg
1¼ cups/160gr Dutch cocoa powder
1½ cups/190g all-purposeflour
½ tsp instant coffee
½ tsp baking powder
a pinch of salt
1 stick/114gr unsalted butter, softened
2 tbsp half&half (or 1 tbsp butter + 1tbsp vegetable spread)
1 tsp vanilla extract
A pinch of salt
3 cups powdered sugar
In a large bowl, whisk together butter and sugar until light and fluffly. Add in the egg and vanilla, and beat until well incorporated.
In another bowl mix together the dry ingredients: all-purpose flour, instant coffee, cocoa powder, baking powder and salt.
Gradually fold the dry ingredients into the wet ones. Mix until just combined.
Divide the dough in half, shape into 2 circles and wrap in cling film. Refrigerate for 20 min.
Arrange the dough between 2 sheets of parchment paper lightly dusted with flour, and roll into a rectangular, ¼ inch high.
Repeat with the other dough, and refrigerate both cookie sheets for 10 min.
With the help of a heart-shaped (or any shape you prefer) cookie cutter, start making your cookies.
Once all the cookies are ready and arranged on a baking tray covered with parchment, refrigerate them for another 10 mins.
Heat the oven to 350°F/175C. Bake the cookies for 12 minutes, then transfer to a wire rack to cool completely.
In the meantime, prepare the cream filling: in a bowl, whisk together softened butter, half and half, vanilla, and salt and beat until combined.
Gradually add the powdered sugar, ½ cup at a time, and mix until the cream comes together.
Transfer the filling into a piping bag. Pipe the cream onto half of the cookies and top with the remaining ones to make your yummy homemade Oreos. Enjoy!
Recipe by
The Petite Cook
at https://www.thepetitecook.com/homemade-love-oreo-cookies/