American Carrot Cake with Orange Mascarpone Cream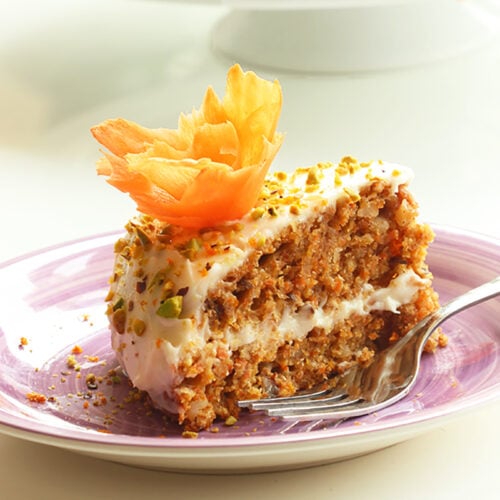 130g/ ⅔ cup muscovado sugar
120ml/ 4oz sunflower seed oil
4 medium free-range eggs
juice and grated zest of one orange
half pod vanilla seeds
240g / 2 cups whole wheat flour
2 tsp baking powder
3 pinches of sea salt
1 pinch grated nutmeg
1 tsp ground cinnamon
-
300gr/ 10oz finely chopped carrots
3 tbsp chopped walnuts
3 tbsp chopped almonds
250gr/ 8oz italian mascarpone cheese
100gr/3.5oz confectioner's sugar
zest and juice of ½ orange
Preheat oven to 180 ° C.
In a large bowl, mix all the wet ingredients.
Separately, mix together the dry ingredients.
Gently fold the dry ingredients into the wet ones. Mix until fully combined, being careful not to overwork the mixture.
Finally add chopped carrots and nuts. Butter the cake pan and sprinkle with sugar, pour the mixture in, making sure that it does not exceed ⅔ of the mold.
Bake and cook for 40 minutes.
In the meantime, whisk the mascarpone cheese with sugar, until you to get a smooth and rich cream. Add freshly grated orange zest and juice and mix until just combined. Refrigerate until ready to use.
When the cake is cooked, remove from the pan and let cool.
Cut the cake in half horizontally, and spread the cream on the surface. You can cover the cake entirely with cream or just the top of it.
Sprinkle with crumbled pistachio nuts and carrot flakes and serve immediately, or store in the fridge until you're ready to serve.
Recipe by
The Petite Cook
at https://www.thepetitecook.com/american-carrot-cake-with-orange-mascarpone-cream/