Chipotle Guacamole Deviled Eggs - The Egg-straordinary Easter Snack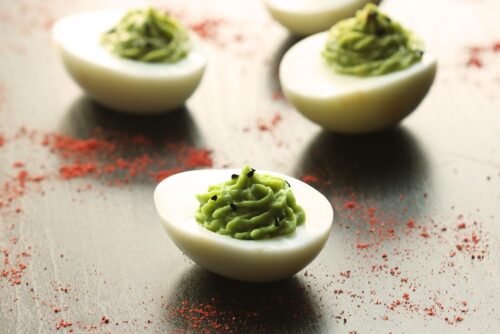 Recipe type:
Appetizer, Snack
6 large eggs
2 medium avocados
1 tsp finely chopped chipotle
½ red onion, finely chopped
¼ cup chopped cilantro;
2 tbsp fresh lemon or lime juice;
salt and pepper to taste.
In a pot of boiling water, fold in the eggs and allow to cook for 11 min.
In the meantime, prepare the guacamole.Cut the avocado in half and scoop out the flesh.
Put avocados and the remaining ingredients into a blender and mix until creamy, season to taste with salt and pepper.
Pour the guacamole into a piping bag and refrigerate until ready to use.
When the eggs are ready,cool them under cold running water, and peel them.
Cut each egg horizontally in half and scoop out the cooked yolks. You can use them for another recipe or in salads.
Pipe the guacamole into each egg half, season to taste and serve.
Recipe by
The Petite Cook
at https://www.thepetitecook.com/chipotle-guacamole-deviled-eggs/