Mussels with Homemade Thai green curry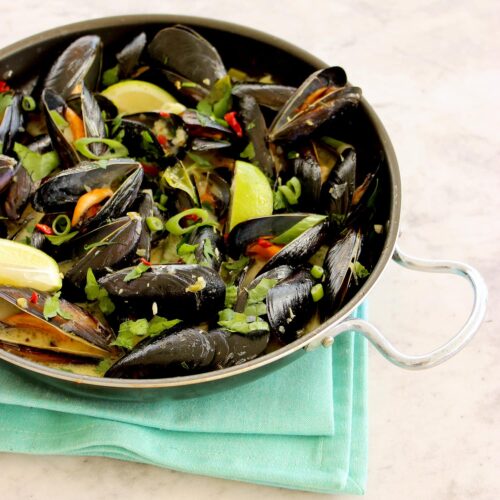 3 pounds fresh mussels, cleaned and scrubbed
2 shallots, finely minced
1 tbsp olive oil
1 garlic clove
1 inch grated ginger
8oz/200ml coconut milk
1 tsp fish sauce
juice of 1 lime
a small bunch of fresh coriander, to serve
1 red Thai chili, chopped, to serve (optional)
2 spring onions, only green tops, finely sliced
2 limes, quartered, to serve
2 cups steamed jasmine rice, to serve
3 medium green chillies, deseeded and roughly chopped
1 spring onion, roughly chopped
1 in piece of fresh ginger, peeled and grated
1 garlic cloves, crushed
small bunch of fresh coriander, stalks and roots
1 lemongrass stalks, chopped
1 lime, grated zest and juice
4 kaffir lime leaves, finely chopped (if unavailable, use the grated zest of 1 extra lime)
½ in piece galangal, peeled and chopped (optional)
1 tbs coriander seeds, crushed
½ tsp ground cumin
1 tsp black peppercorns, crushed
1 tsp Thai fish sauce
For the green curry paste, place all of the ingredients in a food processor. Blend until reach a paste texture.
Heat the oil in a large pot over medium heat, Add the shallots cook until soft, then fold in garlic, ginger and curry paste. Cook, stirring often, until fragrant and golden, about 2 mins.
Add coconut milk, ½ glass of water and fish sauce and bring to a light boil.
Fold the mussels in, and cover with a lid. Cook until the mussels open, abut 6-8 mins. Remov from the heat and discard any unopened mussels.
Add lime juice, lime wedges, spring onions, fresh coriander and chopped chili, season to taste and serve with steamed jasmine rice. Enjoy!
mussels open, about 8 minutes. (Discard any that do not open.) Add the juice of 2 limes to each pot, then add the lime halves. Stir ½ cup cilantro into each. Serve with bread, if desired.
Double up the green curry paste ingredients and store in the freezer for a quick meal, or refrigerate up to 3 weeks in air-tight container.
Recipe by
The Petite Cook
at https://www.thepetitecook.com/thai-green-curry-mussels/