Mango Tart with Passion Fruit Yogurt Mousse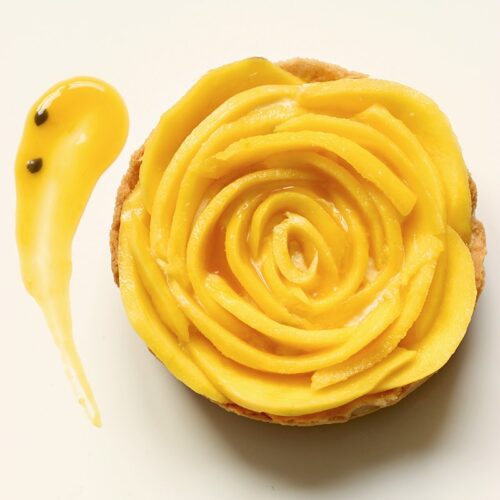 Recipe type:
Dessert, Breakfast
3 mangos, very thinly sliced
400gr/14oz light Greek yogurt
Pulp from 2 passion fruits
1 tbsp unflavored gelatin ( I use vegan gelatin)
1 tbsp honey(optional)
250gr/ 2 +1/2 cups almond flour
3 tbsp agave nectar
a pinch of sea salt
Preheat oven to 350F/180C. In a bowl, mix together almond flour a pinch of salt and agave nectar,
Transfer the mixture in a no-stick 9-inch tart pan ( or 4 small individual tart tins) with a removable bottom. Using a measuring cup or your fingers, evenly press the almond mixture in bottom and up sides of pan.
Bake in center of oven until golden and firm, about 5 minutes. Transfer to a wire rack to cool completely.
In the meantime prepare the filling. In a small saucepan sprinkle the gelatin over ¼ cup cold water and mix, then heat the mixture over low heat, stirring, until the gelatin is dissolved.
In a bowl, mix together passion fruit pulp with yogurt, then add the gelatin mixture. Leave it natural or add honey to make it sweeter.
Fill ⅔ of each tart with passion fruit mousse.
Starting with the longest strips of mango, place the slices around the edge of the tart.
Repeat until you reach the center, slightly overlapping the rows.
Keep refrigerated until serving, and enjoy!
The recipe amounts are for a 9-inch tart or 4 small individual ones.
Recipe by
The Petite Cook
at https://www.thepetitecook.com/mango-tart-with-passion-fruit-yogurt-mousse/