Salmon and Asparagus Risotto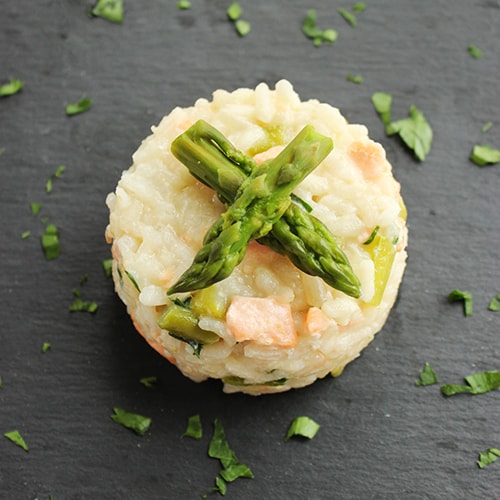 2 cups vegetable stock
6oz /180gr Carnaroli Rice
7oz /200gr fresh salmon fillet, steamed and cut into chunks.
6 stalks asparagus, woody ends snapped off, cut into chunks
1 glass dry white wine
1 onion, finely minced
2 knobs of butter
a handful Parmesan cheese, finely grated
2 tbsp fresh parsley, finely chopped
2 tsp grated lemon zest, to serve
Sea salt & black pepper, freshly cracked, to taste
Heat a knob of butter in a large skillet and sautée the onion for 2 minutes, until softened but not browned.
Turn the heat up, add the rice and toast until translucent,, about 2 mins.
Pour in the wine, and let the alcohol evaporates, stirring once or twice.
Keep cooking the risotto, stirring continuously, by adding a ladle of stock when needed. Cook for about 15 min.
While you cook the risotto, blanch the asparagus in a pot of lightly salted boiling water for about 3-4 mins. Drain under cool running water, pat dry and set aside.
When the risotto is almost ready, stir in ⅔ of the salmon meat and the fresh chopped parsley.
Take the pan off the heat and add a knob of butter and grated Parmesan in. Stir until you reach the perfect creamy consistency, gently fold the asparagus in, season to taste and allow to sit for a couple of mins.
Sprinkle with freshly grated lemon zest and serve.
Recipe by
The Petite Cook
at https://www.thepetitecook.com/salmon-and-asparagus-risotto/