Souffle-like Pea & Carrot Flans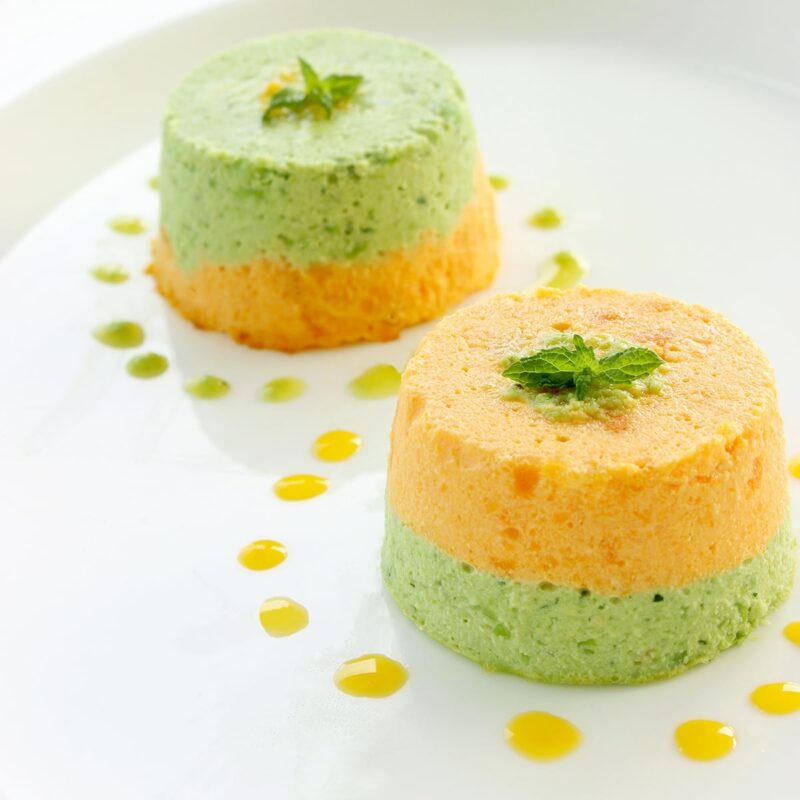 200gr/ 7oz fresh/frozen peas
200gr/ 7oz carrots, finely chopped
100gr/ 3.5oz ricotta cheese
2 tbsp Parmesan cheese
2 large eggs, beaten until light and frothy
2 tbsp almond flour
1 tbsp fresh thyme (or mint leaves)
Extravirgin olive oil, for brushing
salt and pepper to taste
Preheat oven to 150Cfan/170C/325F.
Quickly boil both carrots and peas in two separate pots of lightly salted boiling water.
Drain under cool running water, then pat dry.
In a food processor blend cooked carrots until smooth, then add in half the ricotta and thyme, 1 tbsp parmesan cheese, 1 tbsp almond flour and 1 beaten egg. Season with salt and pepper and transfer into a bowl.
Clean the food processor and fold the cooked peas in, then add the remaining ricotta, almond flour, parmesan, thyme and beaten egg. Season to taste.
Spray with oil a non-stick muffin pan and fill the molds by half with the carrots mixture. Fill to the top with the pea mixture.
Arrange the muffin-tin on a large roasting tray filled with hot water by ⅔, to make the bain-marie.
Bake in the oven for about 30 mins or until set. Allow to cool slightly before removing the flans from the tins.
Turn the flans upside down on a serving plate and serve. Enjoy!
Recipe by
The Petite Cook
at https://www.thepetitecook.com/pea-carrot-flans/