Lemony Spinach & Salmon Fusilli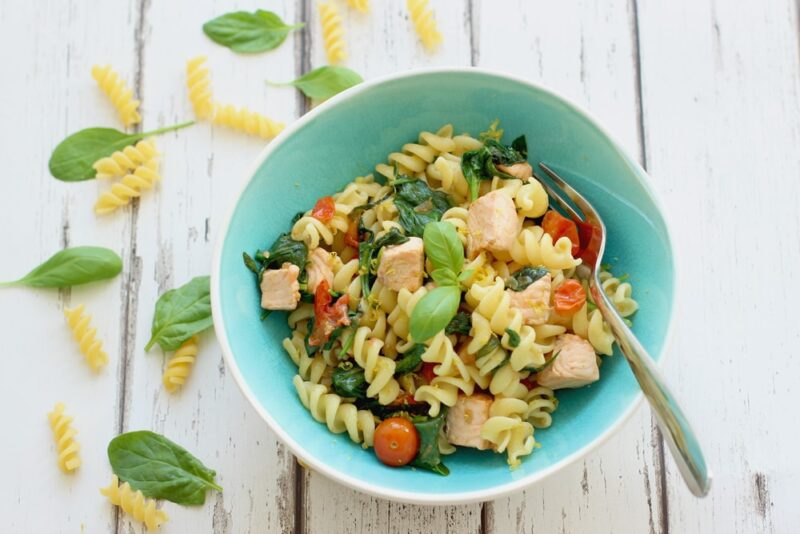 160gr / 6oz Garofalo Fusillipasta
150gr / 5oz fresh cleaned salmon fillet, cut into cubes
175g / 1cup halved cherry tomatoes
5-6 fresh basil leaves
225gr / 1 cup fresh spinach leaves
1 shallot, finely minced
1 tbsp extra virgin olive oil
a pinch of brown sugar
salt & black pepper
Heat a large pot of lightly salted water to a boil. Toss in the pasta and cook until al dente, about 9 min.
In the meantime, heat the olive oil in a large skillet over med-low heat. Add in the shallots and sautee' until soft.
Fold the tomatoes in, season with salt, pepper and a pinch of sugar. Cook for about 5 mins, stirring every now and then.
Add chopped salmon into the pan and stir-fry for 2 mins. Finally fold in basil and spinach leaves and cook for 4 more mins, or until the greens soften and salmon is cooked through.
Drain pasta and toss into the pan with the other ingredients.
Add freshly grated lemon zest. mix all ingredients together and remove from the heat.
Season with extra freshly cracked black pepper and serve immediately.Enjoy!
Recipe by
The Petite Cook
at https://www.thepetitecook.com/lemony-salmon-spinach-fusilli/