Vegan Scallops With Spring Greens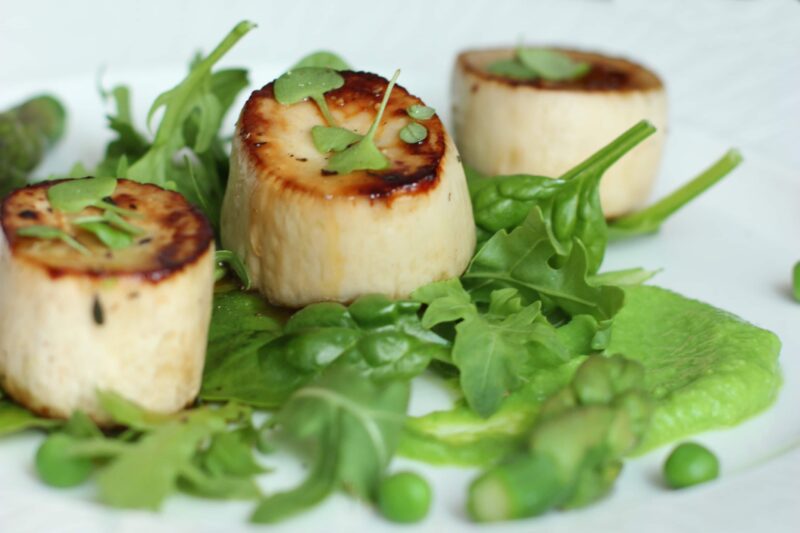 2 King oyster mushroom, tops removed
1 cup fresh/frozen baby peas
4 asparagus, blanched and chopped into chunks
a bunch of baby green leaves, to serve
2 thyme sprigs
1 garlic clove, lightly mashed
4-5 fresh mint leaves
Extravirgin olive oil
salt and pepper, freshly cracked
Cut the mushroom stems into scallops-like, around 2inch each.
Soak them into a container filled with warm water for at least 1h or overnight.
Boil the peas for 3-4 minutes, drain and cool under cold running water.
Fold the peas into a blender with mint, and salt and pepper to taste. Drizzle with oil and blend until smooth and creamy. Reserve until ready to serve.
Pat the mushroom scallops dry. Drizzle a pan with olive oil, ad thyme and garlic and heat over med-high heat.
Add vegan scallops and grill 3-4 mins on each side, or until crisp and lightly brown and cooked through.
Arrange a bunch of baby leaves on a plate, spoon the pea puree over, add chopped asparagus and scallops.
Season with freshly cracked pepper and sea salt flakes and serve immediately.
Remember to soak the mushroom at least for 1 hour or overnight.
Preparation time doesn't not include resting time for the scallops.
Recipe by
The Petite Cook
at https://www.thepetitecook.com/vegan-scallops-with-spring-greens/