Healthy Awesome Baked Falafel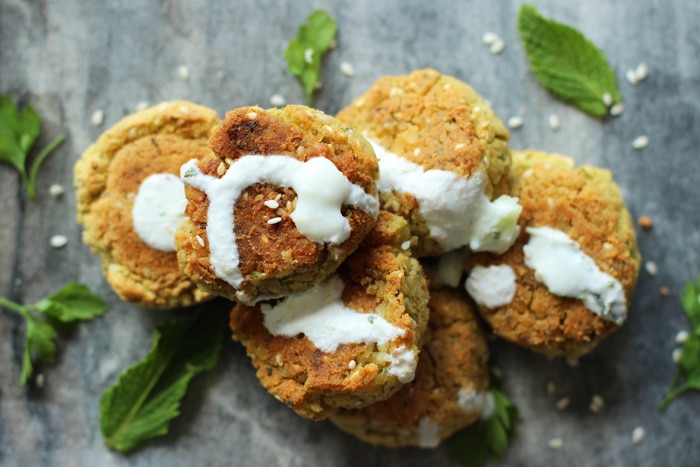 Recipe type:
Snack, Finger food, Main
400g bottled chickpeas, rinsed and drained
handful of basil leaves,
handful of cilantro leaves
1 garlic clove, chopped
1?2 tsp harissa paste or chilli powder
2 tbsp plain flour ( or almond flour for GF)
1 tsp allspice
2 spring onions, finely chopped
zest of 1 lemon
olive oil, for cooking
sea salt to taste
a pinch of cayenne pepper
½ cup low-fat Greek yogurt
1 tsp lemon juice
1 tbsp fresh mint leaves, chopped
½ cucumber, peeled seeded and diced
salt & pepper to taste
pitta bread to serve
Place chickpeas in a food processor. Add garlic, cilantro, basil, lemon zest, harissa or chili, spring onion, allspice,cayenne pepper and flour.
Blend until all ingredients are combined and the mixture reaches a smooth texture. Scrape down the sides of the food processor with a spatula if necessary. Season to taste.
Gently wet your hands and divide the mixture forming 6-8 patties. Arrange them on a non-stick baking tray, brush with olive oil.
Put in the freezer for 5-10 mins, it will help falafels to set and keep their shape while the cook.
Bake falafels in the oven at 200C/390F for about 20 min, turning them on the other side half-way through cooking time. Falafels are ready when they get nicely crispy and golden-brown on both sides.
To make tzatziki-style dip: mix together all ingredients in a bowl, and season with freshly cracked sea salt and black pepper to taste. Refrigerate until falafels are ready.
Serve falafels with warm pitta bread or on their own with tzatziki-style yogurt dip on the side.
Makes 6 medium falafels.
Substitute flour with almond flour for gluten-free option
Recipe by
The Petite Cook
at https://www.thepetitecook.com/healthy-awesome-baked-falafel/