Cheesecake Filled Strawberries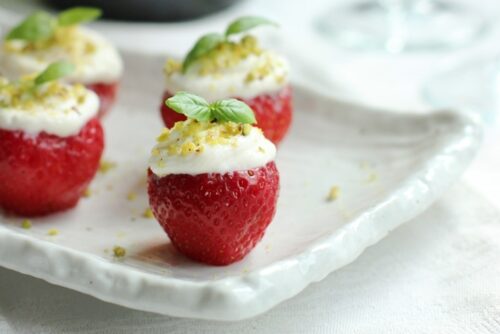 16 medium organic strawberries
500gr fresh ricotta, drained
4 tbsp caster sugar
zest of 1 lemon
zest of 1 orange
½ vanilla bean (optional)
½ cup peeled pistachios, finely crumbled
a bunch of baby basil leaves, to decorate
Cut off the stems and a small part of the bottom with a sharp knife, so that your strawberries can properly stand.
Remove part of the inside flesh with a melon baller or a sharp knife, depending on the size of the strawberries.
Prepare the cheesecake filling.Put the ricotta and sugar in a large bowl and mix energetically with a spatula or hand blender until smooth and creamy.
Add in the orange zest & lemon, vanilla and pistachio if using, then fold the nutella in. Gently mix by hand until combined.
Transfer the filling into a piping bag and chill 5 mins in the freezer to set. Fill each strawberry with the cream.
Decorate with crumbled pistachios and top with baby basil leaves.
Serve immediately or refrigerate in an airtight container until ready to serve.
Recipe by
The Petite Cook
at https://www.thepetitecook.com/cheesecake-filled-strawberries/