Asparagus Tart with Fresh Herbs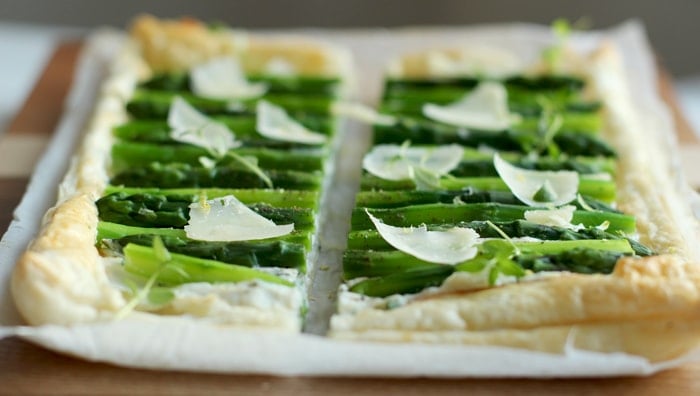 250g rough-puff pastry or use bought puff pastry
13-14 asparagus, trimmed
2 tbsp extravirgin olive oil
salt and pepper
200g fresh ricotta cheese, drained
½ tsp extra virgin olive oil
zest of ½ lemon
2 tbsp fresh chives chopped
1 tbsp fresh basil, chopped
1 tbsp fresh thyme ( I use lemon variety), chopped
1 tbsp grated parmesan + shavings to decorate ( both optional)
sea salt and black pepper
Heat oven to 180C/375F.
Roll out the pastry to about 6 x12inch (15 x 30cm) rectangular shape and trim the edges. Transfer to a baking tray covered with parchment. Score a 1cm border, making sure you don't cut the base.
Prick the base with a fork, brush the tart edges of the olive oil ( or a beaten egg). Bake for 15 min, in the oven middle rack.
In a large pot of boiling water, quickly blanch the asparagus for 2 mins, then drain and transfer into a bowl of ice cold water, Drain and pat dry, keep aside until needed.
Meanwhile, prepare the cheese filling. In a bowl mix the ricotta, lemon zest, herbs and the Parmesan if using. Drizzle with very little olive oil and season with salt and freshly cracked black pepper.
Remove the base from the oven and evenly spread with cheese mixture within the borders. Place asparagus along length of the tart, alternating the direction of the tips.
Drizzle with a little olive oil, season with sea salt and black pepper and bake for 15 mins more. Serve warm or slightly chilled. Refrigerate in an airtight container for up to 2 days. Enjoy!
To make your homemade puff pastry 100% vegetarian, substitute butter with vegan butter.
If using store-bought version, buy a vegetarian-friendly alternative.
Recipe by
The Petite Cook
at https://www.thepetitecook.com/asparagus-tart-with-fresh-herbs/