Italian Leftover Spaghetti Frittata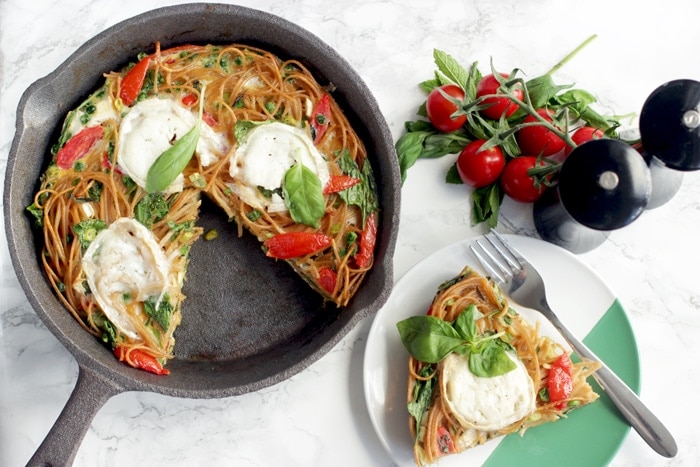 Recipe type:
Vegetarian main course /side dish/ appetizer
250gr / 4cups cooked whole-wheat spaghetti
150gr / 5oz cubed goat cheese
5 beaten large eggs
225gr /1 cup fresh spinach leaves
170 gr / 1 cup sliced cherry tomatoes ( seeds and juice removed)
a bunch of chopped fresh basil and mint
150gr /1 cup boiled fresh/frozen peas
3 finely chopped spring onions
1 tbsp extravirgin olive oil
Preheat oven to 390F/190C.
In a large bowl add spaghetti and eggs and mix well. Season with salt and pepper to taste and fold in the rest of the ingredients.
Mix all ingredients together and season a little more.
Brush with olive oil a medium cast iron skillet and arrange over medium-high heat.
Gently pour over the spaghetti mixture. Make sure the spaghetti are evenly arranged and almost entirely covered with the eggs & other ingredients.
Cook on the stove for about 5 mins, until the frittata edges are solid but the center is still runny.
Finish the cooking process in the oven, until the center is no longer liquid and the frittata is nicely golden brown on top, about 10 mins.
Remove from the oven and serve warm or allow to cool and serve into slices at room temperature.
Store in the fridge in an airtight container for up to 2 days.
An easy way to ensure your spaghetti are nicely spread is to arrange them first on the skillet, then pour over the remaining mixed ingredients.
Recipe by
The Petite Cook
at https://www.thepetitecook.com/italian-leftover-spaghetti-frittata/