3 Ingredients Chocolate Chip Cookies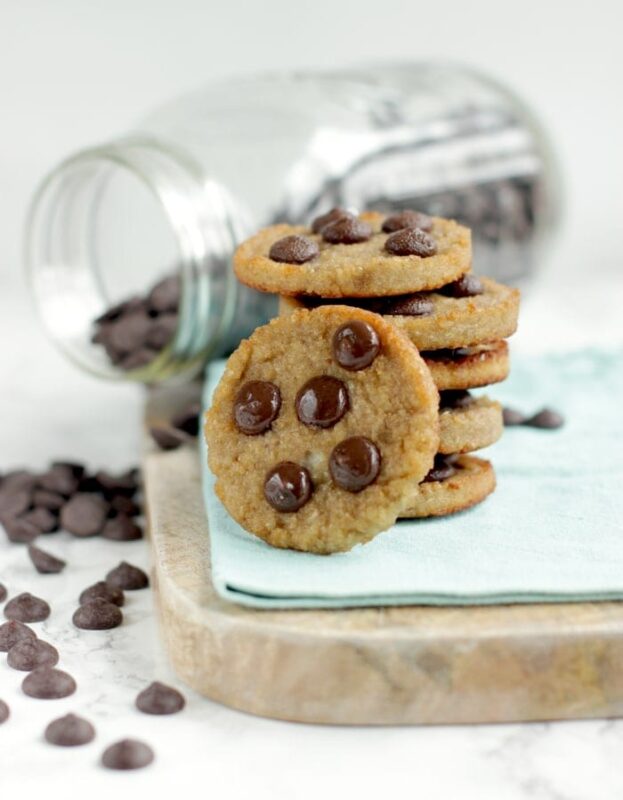 Recipe type:
Dessert / Breakfast
1 large ripe banana
1 cup / 110gr almond meal (finely ground almonds)
½ cup / 90gr dark chocolate chips to decorate
Preheat oven to 350F / 180C.
Place a banana and almond meal in a powerful blender or food processor and blend until creamy.
Spray baking sheet with nonstick spray.
Drop full tablespoons of cookie dough on a baking tray covered with parchment paper, making sure to leave a space of 2 inches between the cookies.
Bake for 10-12 minutes or until cookies are set and golden on top.
Remove from oven and cool on wire rack.
Cookies will keep in an airtight container for a few days, or they can be frozen and reheated.
You can easily substitute almond meal (ground almonds) with coconut flour, finely ground pistachios or hazelnuts.
Recipe by
The Petite Cook
at https://www.thepetitecook.com/3-ingredient-chocolate-chip-cookies/