Pumpkin Chocolate Chip Muffins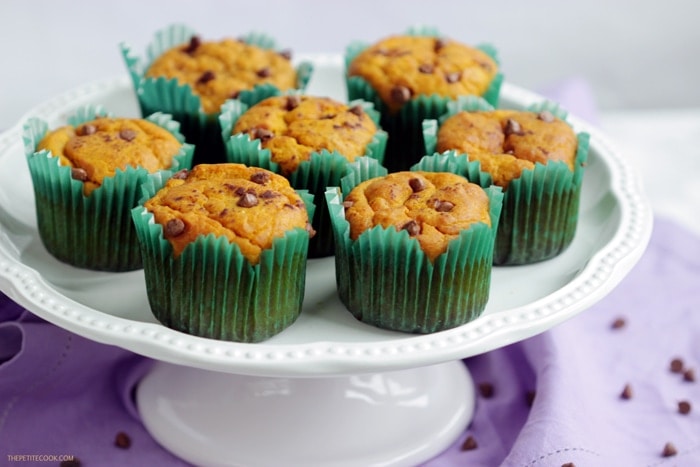 200gr / ⅔ cup pumpkin puree
3 tbsp fine brown sugar
2 large eggs, beaten
120ml /1/2 cup light extravirgin olive oil
140gr / 1+1/4 cup all-purpose flour
1 tsp ground cinnamon
1 tsp pumpkin spices ( see notes)
1+1/4 tsp baking powder
a pinch of salt
½ cup dark/milk chocolate chips
Pre-heat oven to 180C/1 60C fan/ 375F.
In a large bowl, beat the eggs, sugar, pumpkin puree and oil until smooth.
In another bowl combine the flour, pumpkin pie spice,, cinnamon, salt and baking powder.
Slowly incorporate the dry ingredients with wet ones, making sure of not over mixing.
Divide the mixture into a non-stick muffin tin folded with paper cases, filling each mould ¾ to almost all the way to the top.
Bake for 15-20 min or until a skewer comes out clean.
Cool in the tin for 10 mins then serve.
Store in an airtight container for up to three days.
You can also make your own pumpkin spice mix.
1 tbsp pumpkin spice mix: 1½ teaspoons cinnamon, ½ teaspoon nutmeg, ½ teaspoon ginger, ¼ teaspoon allspice.
Recipe by
The Petite Cook
at https://www.thepetitecook.com/pumpkin-chocolate-chip-muffins/