Superfood Salmon Lasagna with Kale and Spinach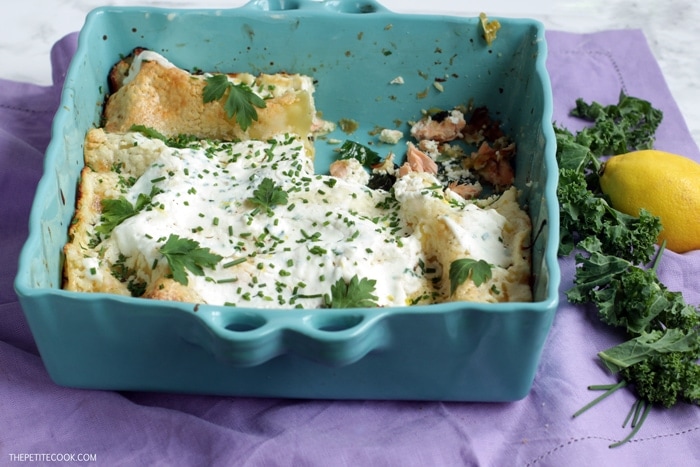 8-10 dry lasagne sheet ( I use Garofalo)
1 leek, trimmed, washed and cut into thin slices
10oz/300g baby spinach leaves
7oz/200gr chopped kale leaves
1 garlic cloves, peeled and crushed
400g fresh skinless salmon fillets, cubed
zest of 1 lemon
1 small red chili pepper, finely chopped (optional)
100g parmesan cheese, grated
4 tbsp fresh chopped chives
4 tbsp fresh chopped parsley
a pinch of nutmeg
extra virgin olive oil
½ cup fresh ricotta
a splash of milk/water
a generous pinch of ground nutmeg
salt & white pepper
Heat the oven to 180C/360F/Gas 4.
In a large pot of lightly salted boiling water, blanch the lasagna sheet one by one for 1 min. Drain and pat dry on a kitchen towel.
For the ricotta sauce: simply blend ricotta with a splash of milk/water until it reaches a creamy consistency. Adjust with more liquid if necessary. Season with salt, white pepper and a pinch of nutmeg.
Heat a large skillet over medium-low heat. Add a glug of olive oil, garlic and chili. Fold in leeks and stir-fry gently until softened.
Add in spinach and kale and cover with a lid. Allow to cook for 2-3 min, then sautee all ingredients until cooked through. Pour a little water if necessary.
Half-way through cooking, add the chopped salmon and cook until pale pink.
Season with salt, pepper, lemon zest and a pinch of nutmeg.
In a large oven dish, start to layer the lasagna. Spread a little extra virgin olive oil and white sauce on the bottom.
Add a layer of lasagna sheets, then fold in half the cooked vegetables and fish. Sprinkle half the fresh herbs and pour more white sauce over. Repeat the layers until the dish is nearly full.
Top with a layer of white sauce and grated parmesan cheese.
Bake for 20-25 minutes or until crispy and golden-brown.
I prefer to lightly boil the pasta sheet before-hand. If you have little time you can skip this step and use dry lasagna sheet, but may result in a dryer lasagna.
Recipe by
The Petite Cook
at https://www.thepetitecook.com/superfood-salmon-lasagna-with-kale-and-spinach/