Halloween Shortbread Cookies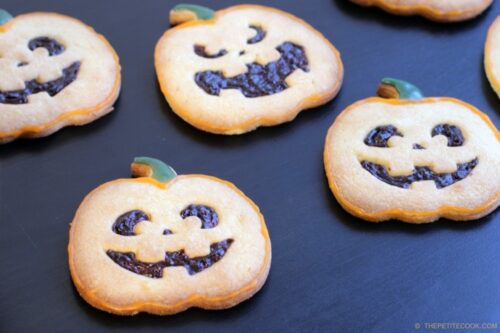 500gr / 17.6oz all purpose flour
250gr / 8.8oz extra cold butter, cut into small cubes
200gr / 7oz confectioner sugar
4 egg yolks
zest of 1 lemon or
zest of 1 orange or
1 tsp pumpkin spice
organic orange food gel
dark chocolate, melted
Preheat oven to 360F/180C/160C fan.
In a food processor, blend flour and cold butter until you have a sandy fine texture, about 30 sec.
Arrange the mixture on a work surface (or a large bowl).
Add the confectioner sugar and any flavoring if using. Make a hole in the middle of the mixture and fold in the egg yolks.
Work very quickly all the ingredients until you have a even dough.
Refrigerate the dough for 5 min if it becomes too warm and sticky to roll.
Roll the dough between two sheets of parchment paper, about ½ inch thick.
Cut into rounds or using your favorite cookie cutters.
Place the cookies on a baking tray covered with parchment and place in the refrigerator for about 5 mins. This will firm up the dough so the cookies won't lose their shape while baking.
Bake for 10 mins until fragrant and lightly golden. Remove from the tray and allow to cool.
Decorate with food gel and dark chocolate and serve.
You can use normal coarse sugar or confectioner's. I prefer the latter as it makes it easier to work the dough without over-warming it.
Wrap the shortbread dough in cling film and store in the fridge for up to 3 days or in the freezer for up to 2-3 months.
Recipe by
The Petite Cook
at https://www.thepetitecook.com/halloween-shortbread-cookies/