Deviled Quail Eggs appetizer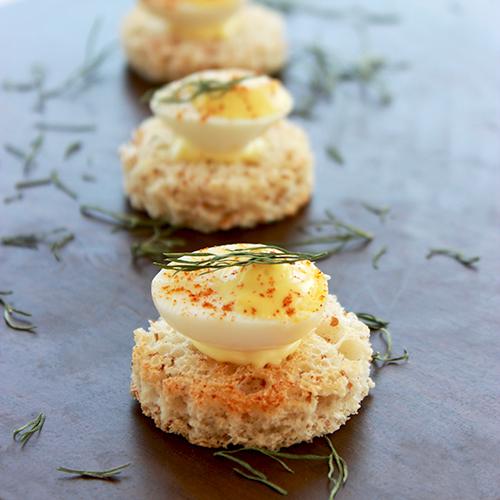 Recipe type:
finger food, entrée
6 Quail eggs
12 Cereal bread slices (or use 6 if you cut 2 rounds from each slice)
3 tbsp Mayonnaise
½ tsp Dijon Mustard
1-1/2 full tbsp Sour cream
Kosher salt & black pepper to taste
Smoked paprika to taste
Dill sprigs for garnish
Put the eggs in a pot filled with cold water, cover with a lid and bring to a boil.
Turn the heat off and let the eggs sit for 2 mins.
Drain and cool under cold running water, then peel them.
Cut each egg in half. Carefully scoop all the egg yolks out and place them in a bowl. Line the egg whites , ready to be filled.
In the egg yolks bowl, mix in sour cream, mustard, paprika, salt&pepper to taste. Stir until well combined.
Transfer the mixture into a piping bag and fill each quail egg. Refrigerate until ready to serve.
With the help of a cookie cutter, shape the bread into rounds. Heat a skillet and toast the bread until crisp on both sides.
Spread ½ tsp of mayonnaise on top of each bread slice.
Top with the quail eggs, sprinkle with paprika and dill, and serve immediately. Enjoy!
Recipe by
The Petite Cook
at https://www.thepetitecook.com/deviled-quail-eggs-appetizer-a-traditional-easter-recipe-with-a-twist/