Easy Baked Mozzarella Sticks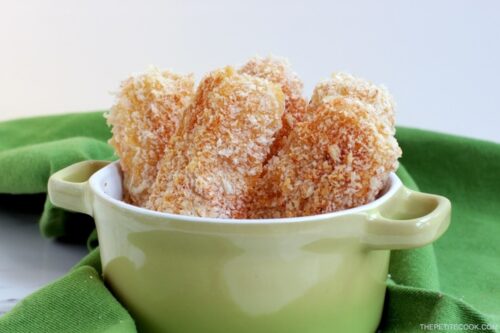 Recipe type:
Snack/Starter
400gr/ 1lb mozzarella block or well-drained mozzarella balls
1 - ½ cups / 360gr panko breadcrumbs
1 cup/ 240gr all-purpose flour
2 eggs + 2 tbsp water, well beaten
½ tsp paprika ( mild or spicy)
sea salt and black pepper
spray cooking oil ( I use extravirgin olive oil), for baking
ketchup, to serve
mayonnaise, to serve
Preheat oven to 180C/350F and arrange rack in upper third of oven.
Cut the mozzarella into 1inch large sticks.
Freeze on a baking tray covered with parchment paper and lightly sprayed with oil, for 10 min.
Arrange in a bowl the eggs beaten together with water. In a second bowl arrange the flour and in a third bowl mix together panko breakcrumbs, salt, pepper and paprika.
Dip the mozzarella sticks first in flour, then in egg mixture, and finally into seasoned breadcrumbs, making sure each stick is evenly coated. You can help yourself out with two spoons or chopsticks.
Repeat one more time, making sure your sticks are completely coated in breadcrumbs ( this will prevent leaking while baking).
Arrange the mozzarella sticks on a non-stick baking tray and spray with a little oil.
Bake 5-7 minutes, then turn and cook another 5 minutes until crispy and golden brown. Serve immediately while still hot and gooey.
Recipe by
The Petite Cook
at https://www.thepetitecook.com/easy-baked-mozzarella-sticks/