Healthy Sweet Potato Waffles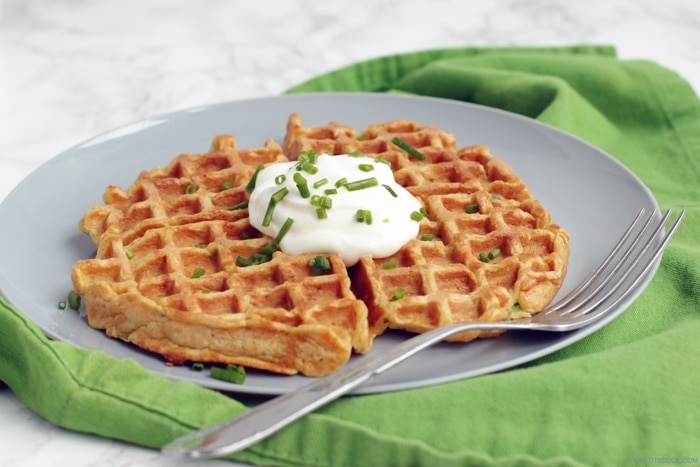 Recipe type:
Breakfast/Starter
¼ cup buttermilk
2 large eggs

2½ cups / 400gr mashed sweet potatoes

3 tbsp chopped spring onions
1 cup parmesan cheese

½ cup /120gr all-purpose flour

½ tsp baking powder
1 tsp baking soda
sea salt and pepper

light extravirgin olive oil spray, for cooking

Sour cream, for serving
Preheat the waffle maker and grease with cooking spray.

In large bowl, whisk together buttermilk and eggs. Add in the mashed potatoes, spring onion , basil and cheese until well combined.
In a small bowl, mix together flour, baking powder and baking soda.
Fold the flour mixture into the potato mixture, season with salt and pepper and mix until well combined.
Pour about ½ cup of the potato batter (depending on the size of your waffle maker) into your waffle maker and spread into an even layer.
Close the lid and bake the waffle until cooked through, crispy and golden brown, about 7-8 mins.
Transfer the waffle to a serving plate then repeat the process with remaining batter.
Serve sweet potato waffles topped with sour cream and chopped chives or your favorite toppings. Enjoy!
<span class="mceItemHidden" data-mce-bogus="1"><span></span>I've used sweet potatoes steamed the day before, but you can also use any left-over mashed sweet potatoes you have in the fridge.
If you opt for regular potatoes, look for starcy Russets or Yukon Golds varieties.</span>
Recipe by
The Petite Cook
at https://www.thepetitecook.com/healthy-sweet-potato-waffles/