Light Brie and Cranberry Cups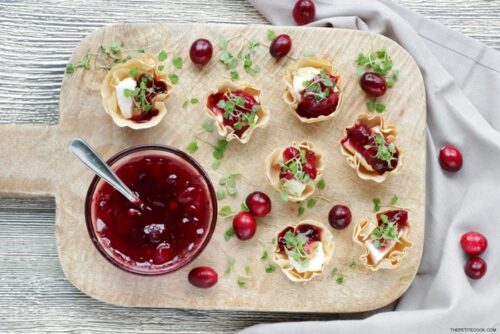 3 large sheet of phyllo pastry
120gr / 4oz brie cheese, finely chopped
a bunch of fresh aromatic herbs ( basil, thyme, parsley etc), I used lemon balm
½ cup cranberry sauce, freshly made or store-bought
200gr/ 2 cups fresh cranberries
2 tbsp sugar, or to taste( I used demerara sugar)
50ml /1/4 cup fresh orange juice
50ml /1/4 cup water
In a medium saucepan, combine orange juice, sugar and water over medium heat.
Cook, stirring occasionally, until the sugar has dissolved.
Stir in cranberries and bring to a boil; reduce heat and let simmer until sauce has thickened, about 7 minutes. Remove from the heat and set aside until ready to serve.
Preheat oven to 190C/200 F.
Roll out the 3 phyllo sheets one above the other. With the help of a cookie cutter, form small circles, trying to work quickly so that the phyllo pastry doesn't dry out.
Arrange three rounds on each mould of a mini muffin tin brushed with olive oil.
Bake for a few mins until lightly crisp and golden brown.
Remove from the oven and arrange some chopped cheese in each cup. Dollop a scant spoonful of cranberry sauce on each little brie cup.
Top with fresh aromatic chopped herbs and serve.
I used a 3 inch cookie cutter to make 12 mini phyllo cups.
If you're using frozen phyllo pastry, make sure to defrost in the fridge the night before.
Recipe by
The Petite Cook
at https://www.thepetitecook.com/light-brie-and-cranberry-cups/