Matcha Orange Cocoa Truffles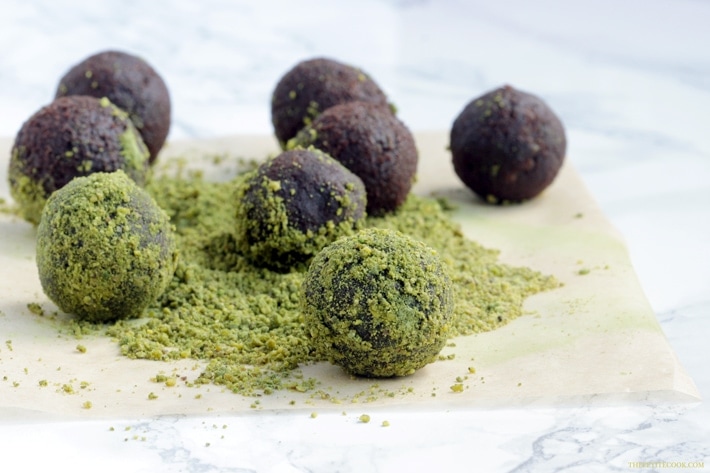 250gr /1cup Medjool dates, seeded and chopped
¼ cup orange marmalade (i like the chunky texture type)
¼ cup high-quality cocoa powder
¼ cup matcha powder
⅓ cup ground pistachios
¼ chopped pistachio or almond meal (optional)
Put chopped dates in a food processor with a splash of water and run until a chunky paste forms.
Add the orange marmalade and cocoa powder and pulse a few more times.
The mixture should be dense, sticky and a bit crumbly. If you like it firmer, add chopped pistachios or almond meal into the mixture. If it's too dry, just add an extra splash of water.
Roll about 1 tbsp of the mixture between your palms to form a bite-sized ball. Repeat with remaining mixture.
Put matcha powder and ground pistachio nuts on a plate and roll each truffle in.
Store in an airtight container in the fridge for up to 2 days.
Recipe by
The Petite Cook
at https://www.thepetitecook.com/matcha-orange-cocoa-truffles/