Basic Buttermilk Pancakes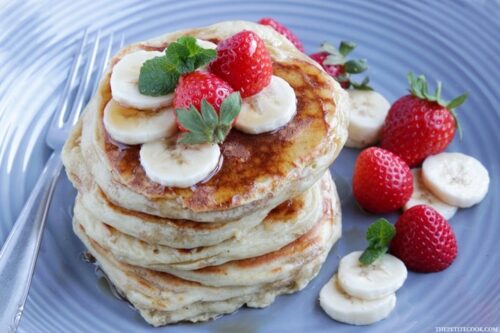 200gr / 7oz all-purpose flour
2 ttsp baking powder
1 tsp baking soda
a pinch of salt
2 large eggs, lightly beaten
2 cups buttermilk
2 tbsp melted butter
spray oil for griesing
bluberries, strawberries, banana, chocoate chips
maple syrup
knob of butter
maple syrup
In a large bowl whisk together flour, baking powder, baking soda, salt.
Add eggs, buttermilk, and melted butter; whisk to combine. It's ok if the batter has small lumps.
Heat a non-stick frying pan over med-high heat and spray with oil.
Pour 3 large spoonful of the batter on the hot surface, and spread a little with the back of the spoon to form a round.
Cook for about 2 min, then flip the pancake on the other side and continue to cook for a further 1-2 min.
Transfer on a serving plate and serve with maple syrup and fresh fruits on top. Enjoy!
Recipe by
The Petite Cook
at https://www.thepetitecook.com/basic-buttermilk-pancakes/