Healthy Chocolate Brownies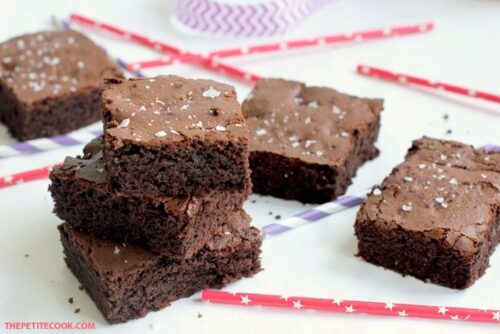 200g avocado flesh ( about 2 avocados)
2 eggs
½ vanilla pod
1 tbsp water
100g/3.5 oz bar of 65-70% dark chocolate
85g/3oz Dutch cocoa powder
50gr demerara or brown sugar
1 tbsp honey ( like Manuka honey), optional
½ tbsp baking soda
pinch of sea salt flakes
Preheat oven to 180C/360F. Grease with a little olive oil a 8" baking pan.
Melt the chocolate in a heat-proof bowl over a pan of boiling water. Once melted, let it cool a little.
Add the avocado flesh into a mixer, then fold in eggs, vanilla and water. Blend all ingredients until creamy.
Add in sugar, cocoa powder, honey if you like and a pinch of sea salt. Mix all ingredients, fold in baking soda and stir until just combined.
Transfer the mixture into your prepared pan, levelling out the top and spreading well out the mix to all of the edges.
Sprinkle with sea salt flakes and bake in the oven for 20-25 min, or until a toothpick inserted comes out clean.
Allow to cool completely before taking out of the pan. Cut into square and drizzle with caramel sauce if you like. Enjoy!
Recipe by
The Petite Cook
at https://www.thepetitecook.com/bake-yourself-proud/