Shiitake Mushroom Pasta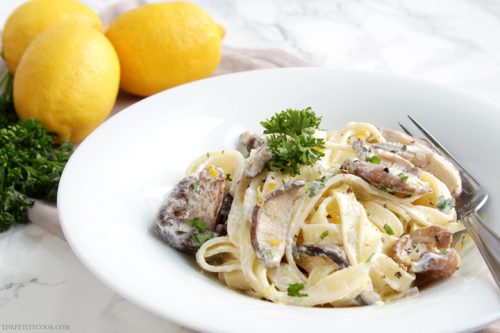 250 gr / 2 cups fresh or dried pasta (I used fresh tagliatelle)
250 gr / 2 cups fresh shiitake mushrooms, stems removed and roughly chopped
1 garlic clove, peeled and lightly crushed
a bunch of fresh parsley, chopped
zest of ½ lemon
120gr /1/2 cup light creme fraiche (optional)
extravirgin olive oil
Freshly ground sea salt and black pepper
Bring a large pan of lightly salted water to a boil.
In the meantime, heat a large saute pan with a glug of olive oil and the garlic.
Add in chopped mushrooms and cook for 10 mins, stirring often and reducing the heat half-way through. Add a splash of water if it gets dry and season to taste.
Cook fresh pasta until al dente (according to package directions) for about 2-3 mins, then drain and transfer in the pan with the mushrooms.
Saute for a minute on high heat, mixing all the ingredients together.
Remove from the heat, stir in lemon zest and chopped parsley and optional creme fraiche.
Season with freshly cracked black pepper and serve immediately.