Duchess Potatoes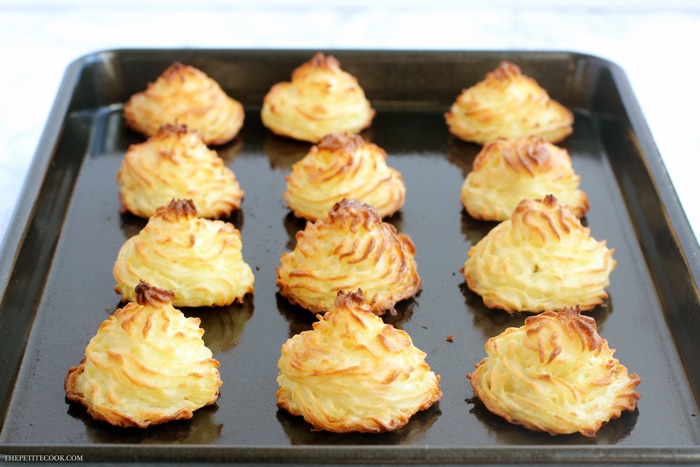 Recipe type:
Snack, Appetizer
500gr peeled and steamed/cooked potatoes
2 free-range egg yolks
4 tbsp extravirgin olive oil
salt and pepper to taste
1 free-range egg yolk, beaten with 1 tbsp of water
a bunch of fresh parsley, chopped, to decorate
Preheat the oven to 200C/ 400°F. Line a baking sheet with parchment paper.
Warm up your cooked potatoes then transfer into a large bowl. Mash with a masher until smooth.
Add in extra virgin olive oil, eggs salt and pepper to taste and mix until combined. Pour in 1 tbsp of water if the mixture is too dense.
Put the mashed potatoes mixture in a pastry bag fitted with a large star tip. Pipe into small rosettes or any shape you like onto the baking sheet.
Allow the piped potatoes to cool a little then lightly brush with the egg wash.
Bake for 10-15 mins or until golden-brown and crispy.
Remove from the oven, sprinkle with extra pepper and chopped parsley, then serve.