Easy Healthy Seafood Paella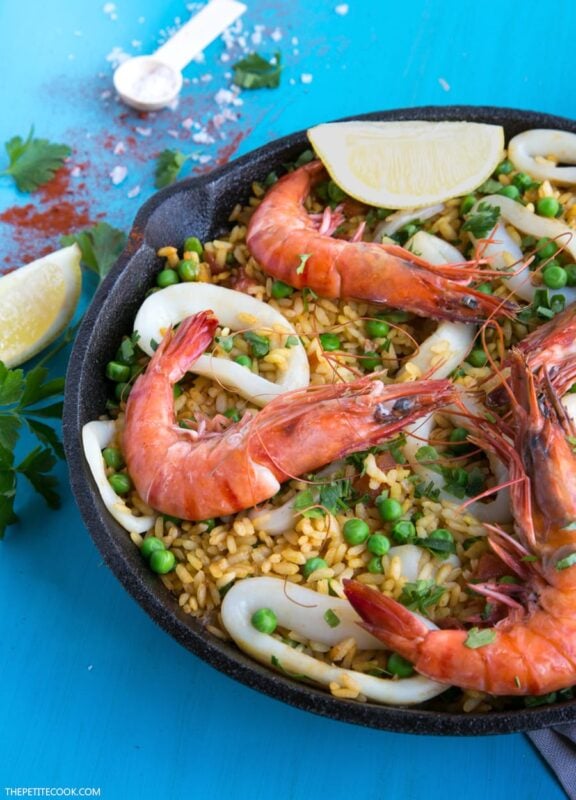 1 tbsp olive oil
1 white onion, finely chopped
1 tsp saffron
300g Bomba or Carnaroli/Arborio rice
1 tin whole plum tomatoes, deseeded
1l hot fish or vegetable stock
200g frozen garden peas
200g frozen squid tubes, defrosted
200gr frozen Black Tiger prawns, defrosted
Sea salt and black pepper to taste
a bunch of fresh parsley, chopped
1 lemon, cut in wedges (optional)
Heat the oil in a paella or cast iron pan, add onion and cook for 5 mins without browning.
Add in the tomatoes, then stir in the saffron and rice and mix well.
Pour in the stock and bring to the boil, then simmer for 15 mins, stirring as little as possible. Season with salt and pepper to taste.
Tip in the peas and cook for 5 mins, then stir in the seafood to cook through for a final 3-5 mins cooking or until rice is cooked.
Check for seasoning and sprinkle fresh chopped parsley on top.
Serve immediately directly from the pan with lemon wedges.
Recipe by
The Petite Cook
at https://www.thepetitecook.com/easy-healthy-seafood-paella/