Hasselback Sweet Potatoes with Guacamole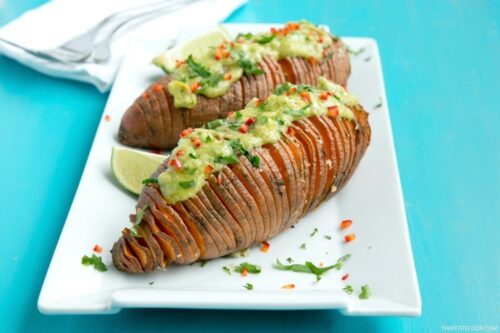 Recipe type:
Side/Main course
4 large sweet potatoes
extravirgin olive oil
sea salt and black pepper
2 ripe avocados
½ small red onion, finely chopped
1 tomato, deseeded, finely chopped
1 tbsp chopped fresh coriander
juice of 1 lime
1-2 tbsp organic greek yogurt (depending how runny you want the guacamole)
1 chilli, red or green, deseeded and finely chopped
sea salt and black pepper, to taste
Preheat the oven to 180C/ 375F.
For the guacamole: put the avocados in a large bowl and mash very well with a fork.
Slowly fold in yogurt and lime juice, and mix until you reach a creamy consistency. Add in chopped tomatoes & onion, coriander and chilli. Season to taste and refreigerate until ready to serve.
For the Hasselback Potatoes: remove a tiny slice of flesh from the bottom so the potatoes sit flat on the cutting board.
Place a wooden spoon on either side of the potatoes and, with the help of a sharp knife, slice all the way through the potatoes as thinly as you can, just until the knife blade hits the wooden spoon.
Drizzle with olive oil and season well with sea salt and pepper, arrange on a baking tray and cover with foil.
Bake for about 40 mins, then remove foil and drizzle with a glug of olive oil, and continue to cook for a further 10 mins, until the potatoes are crispy and cooked through.
Top the sweet potatoes with guacamole and serve. Enjoy!
To make it 100% vegan, substitute greek yogurt with a dairy-free alternative.
Recipe by
The Petite Cook
at https://www.thepetitecook.com/hasselback-sweet-potatoes/