Spicy Shrimp Tacos With Mango Salsa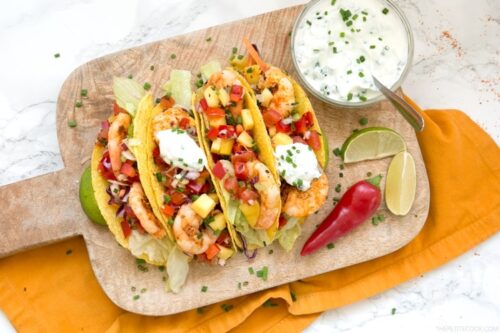 Recipe type:
Snack, Main Course
1 mangoe, diced
1 tsp of fresh ginger, grated
½ small red onion, finely chopped
½ lime, juiced
2 tomatoes, deseeded and finely chopped
½ red bell pepper, diced
2 tbsp of coriander, finely chopped
sea salt & black pepper
12 fresh shrimps, cleaned and deveined
1 tbsp olive oil
½ lime, juiced
sea salt & black pepper
6 hard shell tacos
1 cup sour cream
1 tbsp chives, minced
a bunch of fresh baby leaves
For the mango salsa: in a large bowl, add in diced mango, red onion, red pepper, tomatoes, ginger, lime juice and coriander. Season with salt and pepper to taste, mix all the ingredients together and set aside until ready to use.
Place the shrimps in a bowl and season with salt, shichimi, lime juice and olive oil.
Heat a grilling pan over med-high heat. When hot, place shrimps on top and grill 2 mins on both sides, until pink and cooked through.
Build the tacos in this order: salad leaves, followed by the shrimps and mango salsa.
Mix the sour cream with chopped chives and serve on the tacos or on the side for dipping. Enjoy!
Recipe by
The Petite Cook
at https://www.thepetitecook.com/shrimp-tacos-mango-salsa/