Homemade Nutella and Coconut Samosas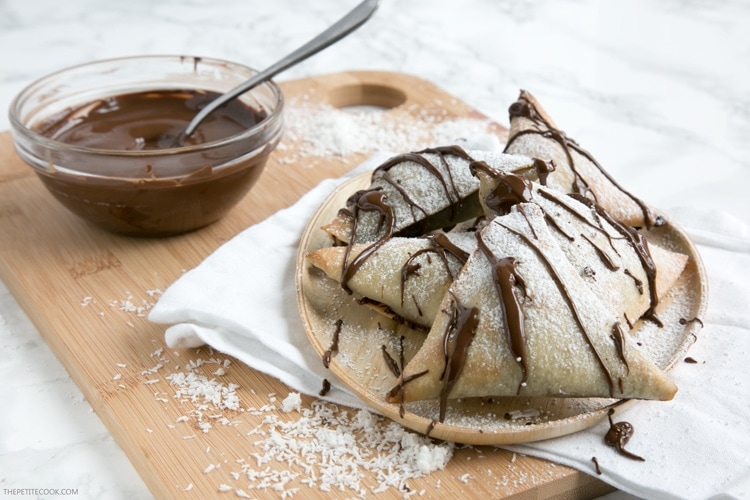 8 Samosa sheets ( I use these)
4oz/ 120 gr homemade nutella, refrigerated
1 banana, sliced
4 tbsp dessicated coconut
Spray oil, for baking
1 tbsp all-purpose flour+ 2 tsp water, for the paste
confectioner sugar
dark chocolate, melted
Preheat oven to 400F/200C.
Fold the edge of a samosa sheet to form a small triangle. Spread a little flour paste over the edge and shape into a cone.
You'll get a sort of pocket, fill it up with a generous teaspoon of nutella, a slice of banana and sprinkle with coconut.
Fold the top sheet over the pocket to make the triangle.
Then finally spread some flour paste on the sheet edge and fold again to seal the samosa. If any of the angles is not sealed properly, just spread a little flour paste to secure it well.
Repeat the process with the remaining sheets.
Arrange the samosas on a baking sheet covered with parchment paper and spray with a little oil.
Bake samosas for 15 mins or until golden and crisp, turning them half-way through cooking time.
Serve the samosas dusted with confectioner sugar, drizzled or dipped in melted chocolate. Enjoy!
Recipe by
The Petite Cook
at https://www.thepetitecook.com/homemade-nutella-coconut-samosas/