Chocolate Coffee Brownie Cake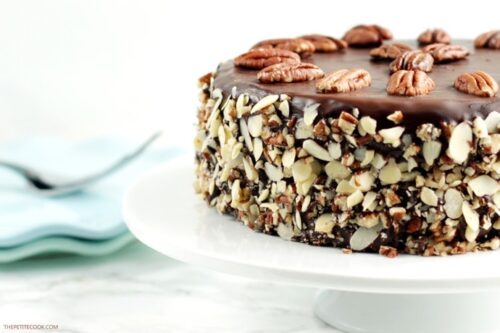 Cuisine:
Allergy-friendly
400g of avocado, flesh only
4 eggs
1 vanilla pod
2 tbsp of water
200g of 70% dark chocolate, melted (I've used dairy-free)
170g of Dutch process cocoa powder
100g of Demerara sugar, or brown sugar
4 tbsp of rice flour
1 tbsp of bicarbonate of soda
2 tbsp of dark chocolate chips, (I've used dairy-free)
2 tbsp of pecan nuts, chopped
1 pinch of coarse sea salt
100g of vegan butter or margarine + extra for greasing
200g of icing sugar
1 tbsp of espresso coffee, chilled
150g of 70% dark chocolate, (I've used dairy-free)
1 tbsp of water or soy milk
100g of pecan nuts, finely chopped + 6 halved for topping
50g of flaked almonds, toasted
Preheat oven to 356°F/180C. Grease two 8inch cake tins with vegan butter.
Add avocado flesh to a food processor, then fold in eggs, vanilla and water. Blend all of the ingredients until smooth.
Add the sugar, cocoa powder, rice flour, melted chocolate, pecans and chocolate chips. Stir together all of the ingredients, fold in the baking soda and stir until just combined
Transfer the mixture to your prepared tins, sprinkle with sea salt flakes and bake in the oven for 20-25 minutes, or until a toothpick inserted comes out clean.
Allow to cool completely before removing from the tins and placing on a cooling rack.
Meanwhile, prepare the buttercream: ,mix together vegan butter and icing sugar, gently pour in the coffee and beat the mixture until creamy and smooth. Keep in the fridge until ready to use.
Spread the buttercream over one of the cakes and place the remaining cake upside-down on top.
For the glaze: melt the chocolate in a heatproof bowl over a pan of boiling water. Then mix in 1 tbsp of water and allow to cool slightly.
Pour the chocolate glaze over the brownie cake, coating evenly all sides, and decorate the edges with chopped pecans and almonds.
Top with halved pecans, allow to set and serve at room temperature or slightly chilled. Store in the fridge in an airtight container for up to 2 days.
Recipe by
The Petite Cook
at https://www.thepetitecook.com/chocolate-coffee-brownie-cake/