Beer Lime Chicken Skewers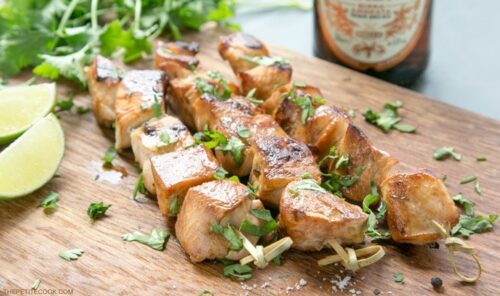 2 chicken breasts, cut into 2cm cubes
olive oil, for grilling
juice of 1 lime
1 red chilli, deseeded and halved lengtwise
2 garlic cloves, halved
½ cup dark soy sauce
1 tsp hot paprika
½ sichuan pepper
generous pinch of sea salt and black pepper
8oz/250ml amber beer, I use Menabrea Ambrata
fresh chopped cilantro for garnish
lime wedges to serve
In a large glass bowl, combine lime juice, halved chilli, garlic, soy sauce , paprika, sichuan pepper and mix them all together.
Add the chicken, season with salt and pepper and stir to coat. Cover and place in the fridge for at least half an hour to marinate.
Thread 4 pieces of the chicken onto the bamboo skewers.
Preheat the grill and grill for about 10-15 minutes, brushing with olive oil through cooking time.
Remove from the grill when the chicken is cooked through and the surface is golden-brown and crisp.
Serve immediately with some lime wedges.
You can grill these beer chicken skewers in an oven. Preheat oven to 200C/400F and grill for about 15 minutes or until fully cooked, turning the skewers halfway through cooking them.
If you're using bamboo skewers, soak your sticks in water for at least 5 minutes, to prevent burning.
Recipe by
The Petite Cook
at https://www.thepetitecook.com/beer-lime-chicken-skewers/