Almond milk, healthy dairy free alternative for breakfast!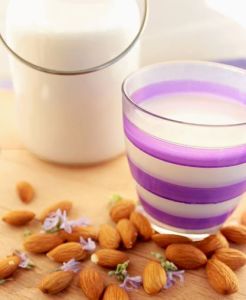 1.5 cups whole blanched almonds or other whole raw almonds
4 cups water
1 tsp vanilla extract
1.5 tbsp maple syrup or honey
Soak almonds for at least 12 hours in purified water.
Rinse almonds well and drain.
Mix almonds with half the fresh water in a blender, until smooth and creamy.
Add honey/maple syrup and the remaining water. Blend until smooth.
Strain the mixture into a large bowl through a cheese cloth or kitchen towel.
Use a spoon or spatula to press down on the strainer and move the solids around, to help the almond milk through the cheesecloth.
Gently squeeze the cheesecloth to remove excess liquid. You'll be left with really fine almond flour inside the cheesecloth. You can dry it out in the oven at a low temperature and use it in place of store-bought almond flour in baking recipes.
Store your almond milk in the fridge for up to 4 days and enjoy!
Recipe by
The Petite Cook
at https://www.thepetitecook.com/homemade-almond-milk-recipe/