Saffron and Wild Mushroom Risotto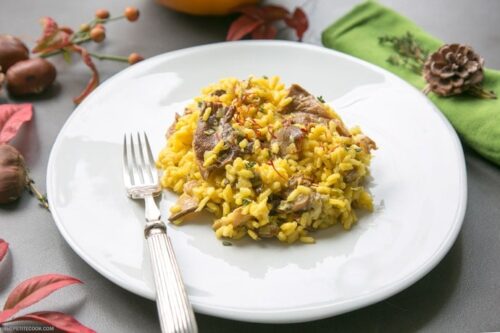 1 large leek, finely minced
250gr/2 cups wild mushroom mix, roughly chopped
1 tbsp extravirgin olive oil
6oz /180gr Italian Carnaroli Rice (or Vialone Nano)
Hefty pinch saffron (about 8 strands)
1l/ 4 cups vegetable stock
2 knobs of butter
a handful of Parmesan cheese, finely grated
2 sprigs of thyme, teared
Sea salt & black pepper, freshly cracked, to taste
Combine saffron threads and 3 tbsp of warm water in a small cup and set aside.
Heat a large pan with the oil, then fold in chopped leeks. Saute for 5 min, then add the mushrooms and continue to cook for a further 5 min. Season to taste, then remove from the pan and set aside.
Heat the pan again and add 1 knob of butter, followed by the rice. Toast the rice until translucent, for about 2 min.
Pour in the saffron mixture stirring once or twice.
Keep cooking the risotto, stirring continuously, by adding a ladle of stock when needed. Cook for about 15 min. Halfway through cooking time, old in the mushroom & leek mix previously cooked, and season to taste.
Take the pan off the heat and add grated Parmesan and the remaining knob of butter, and stir until you reach the perfect creamy consistency.
Season to taste with black pepper, sprinkle with fresh thyme leaves and serve.
Recipe by
The Petite Cook
at https://www.thepetitecook.com/saffron-wild-mushroom-risotto/