Mushroom Arancini, Italian rice balls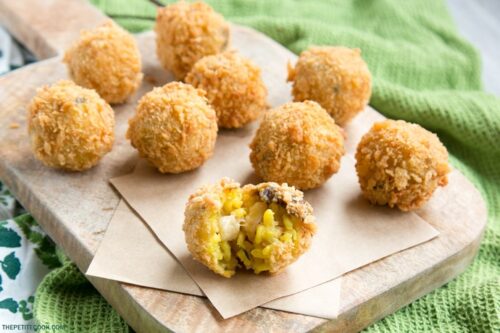 About 2 cups prepared left-over risotto, cooled
100 g fresh mozzarella, well drained and cubed
½ cup / 220gr all-purpose flour
Salt & pepper to taste
3 eggs, lightly whisked
2 cups panko breadcrumbs
750 ml vegetable oil
Take a spoonful of risotto and fill it with a cube of mozzarella. Shape the risotto into small even balls. Continue the process until all the risotto is used up.
In a small bowl, mix the flour with some salt & pepper. Place whisked eggs in a second bowl, and breakcrumbs in another.
Dip each risotto ball into the flour, then into the egg mixture and then into the breadcrumbs, evenly covering it all around. Place on a tray and repeat until all arancini are ready.
Heat the vegetable oil into a medium saucepan until 170C/350F, then fry the arancini in small batches for about 2 min, until crispy and golden-brown.
Remove from the pan, pat them dry on kitchen paper, and serve immediately.
Recipe by
The Petite Cook
at https://www.thepetitecook.com/mushroom-arancini/