Leek and Potato Soup with Roasted Hazelnut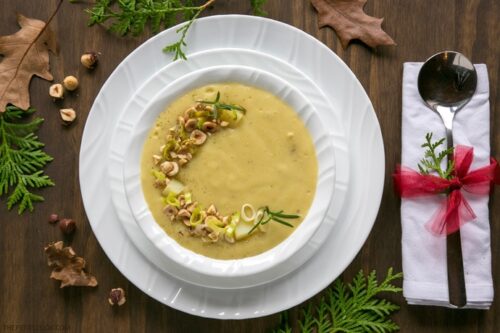 3 tbsp extra-virgin olive oil
4 leeks, white and light green parts only, roughly chopped
2 garlic cloves, peeled and smashed
900gr Russet or Yukon Gold potatoes, peeled and roughly chopped into chunks
1.5 lt vegetable stock (homemade is best)
2 bay leaves
1 sprig fresh thyme, plus more for garnish if desired
1 sprig fresh rosemary, plus more for garnish
200gr hazelnuts, peeled
1 teaspoon salt
¼ teaspoon ground white pepper
220 gr creme fraiche (optional)
Heat the olive oil in a large saucepan, then add leeks, garlic and potatoes, and stir-fry, stirring occasionally for about 5 min,
Fold in bay leaves, thyme and rosemary and season with salt and white pepper.
Pour in stock and cover with a lid. Bring to a light boil, then lower the heat and cook with the lid slightly on the side for a further 20 min, or until veggies are tender and cooked through.
In the meantime, heat a large skillet and toast the hazelnuts for about 3-5 mins, until lightly browned, then cut into halves and set aside until ready to serve.
Take out bay leaves, rosemary & thyme sprigs, and a handful of leeks and potatoes. Adjust seasoning, add creme fraiche if using, then blend the soup with a hand-held immersion blender until smooth.
If the soup is too thin, simmer again until thickens, if the soup is too thick, just add some extra stock.
Divide the soup into bowls, then chop the reserved leeks and potatoes, and top each soup with chopped leeks, 3-4 potato cubes, chopped hazelnuts and extra rosemary & thyme leaves. Season with white pepper and serve immediately.
Recipe by
The Petite Cook
at https://www.thepetitecook.com/leek-and-potato-soup/