Salmon and Prawn Cocktail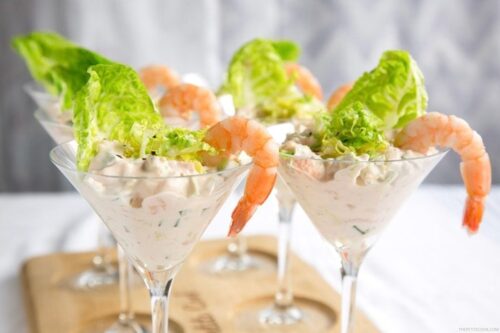 200g/8oz cooked, peeled king prawns
150 gr smoked salmon
1 large cucumber
4 baby gem lettuce
sea salt and black pepper
5 tbsp ricotta, well beaten
2 tbsp yogurt
1.5 tbsp ketchup
zest of 1 lemon
splash Tabasco sauce
splash Worcestershire sauce
sea salt and black pepper
For the sauce: in a large bowl mix together the ricotta,yogurt and ketchup. Whisk in the Tabasco, Worcestershire, sprinkle with lemon zest and season with salt and pepper to taste.
Chop the salmon and prawns into bits, reserving 4 prawns to decorate later. Finely cube the cucumber and chop into strips the baby gem lettuce.
Fold all the ingredients into the sauce and mix everything together. Then chill in the fridge for 15 min.
Spoon the salmon and prawn cocktail into 4 martini glasses and decorate each one with a king prawn and a baby gem lettuce leave. sprinkle with extra black pepper and serve.
Recipe by
The Petite Cook
at https://www.thepetitecook.com/salmon-and-prawn-cocktail/