Easy Moussaka Stuffed Eggplants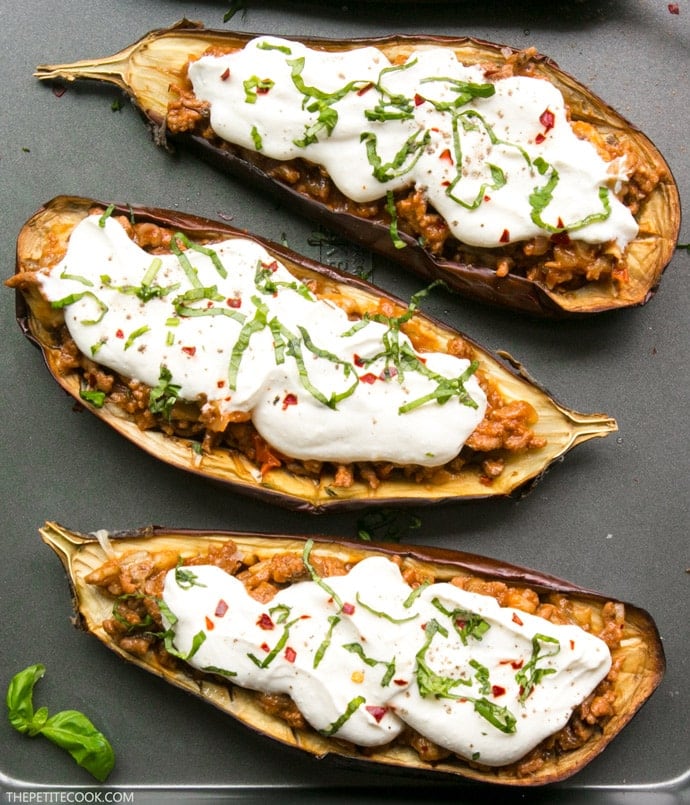 5 oz/150 gr fresh ricotta

2 tbsp creme fraiche

salt and pepper
handful basil leaves, finely chopped
1 tsp chilli flakes (optional)
Preheat oven to 190C/400F.
Cut each eggplant in half lengthwise through the stem, Then, score the flesh in a tight criss-cross pattern, making sure not to cut through the skin. Place them on a baking tray covered with parchment paper.
Brush with extra virgin olive each half, season with sea salt and a sprig of thyme, then bake for 20 minutes or until the flesh is soft and tender.

In the meantime, prepare the filling. Heat a large skillet (or wok) with the olive oil over medium heat, and fold in chopped onion and garlic.

Add in beef mince, and cook for 5 min until brown, breaking the mince with a wooden spoon as you cook. Then stir in halved tomatoes, thyme and sugar and continue to cook for a further 2 min.
Whisk the tomato paste into the chicken stock and pour over the beef. Season with salt and pepper to taste, cover with a lid and simmer over medium-low heat for about 15 min, until the sauce has reduced consistently.

For the ricotta sauce: simply whisk ricotta and creme fraiche together until smooth and creamy. Season with salt and pepper to taste and set aside until needed.

Once the eggplants are ready, gently scoop out the flesh and mix it together with your filling. Finally, fill each eggplant with the moussaka mixture, top with ricotta sauce, sprinkle with basil & chilli flakes and serve immediately.

Store in airtight container in the fridge for up to 2 days.
Recipe by
The Petite Cook
at https://www.thepetitecook.com/moussaka-stuffed-eggplants/