Homemade Cream of Mushroom Soup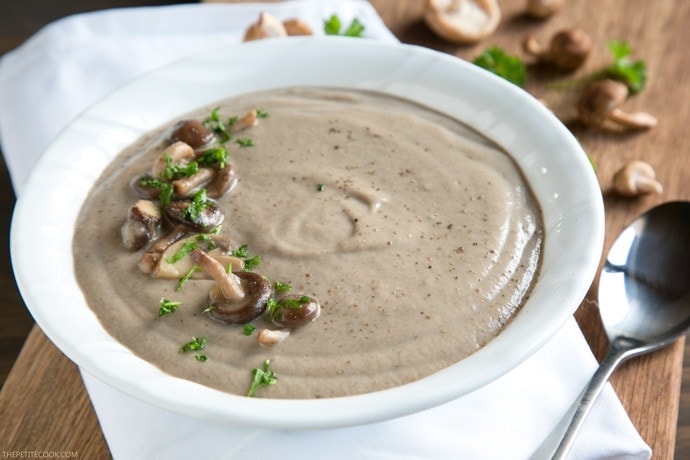 ¼ cup / 60gr butter (I use homemade)
1 gold or white onion, finely chopped
2 garlic cloves, minced
12oz / 350gr chestnut mushroom, sliced
5oz / 150gr shiitake mushroom, sliced
2 tbsp all purpose flour
2 cups / 480 ml vegetable or chicken stock
4oz / 120ml fresh double cream
a handful of chopped parsley, to garnish (optional)
Sea salt and freshly cracked black pepper
In a large pot, met the butter over medium-low heat. Add in onion, garlic and mushrooms, and stir-fry, stirring occasionally, until soften, about 5 min.
Sprinkle the flour into the pot, and stir to heavenly coat the mushrooms. Season to taste.
Pour in the stock and bring to a boil, then reduce the heat and simmer until slightly reduced, about 5 min.
Reserve ¼ cup of mushrooms and set aside. Transfer the remaining mixture into a food processor and pulse until creamy and smooth.
Return the mixture into the pot, pour in double cream and season to taste. Continue to cook and reduce for another 5 min, or until desired thickness is reached.
Pour in the reserved cooked mushrooms, sprinkle with fresh parsley and season with freshly cracked black pepper.
Store in an airtight container for up to 2 days.
Recipe by
The Petite Cook
at https://www.thepetitecook.com/homemade-cream-of-mushroom-soup/