The Easiest Vegan Pad Thai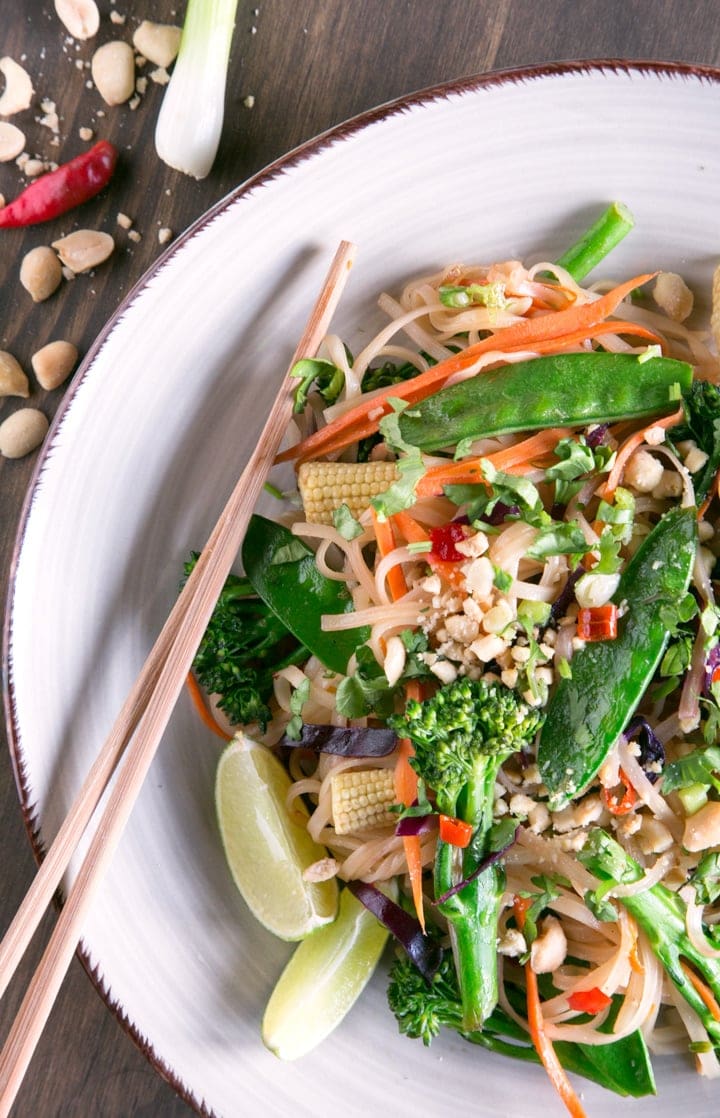 200gr flat rice noodles
1 garlic clove, finely minced
1 red chilli, finely sliced
60gr snow peas
100gr sprouting broccoli
4 baby corns, roughly chopped
100gr red cabbage, finely chopped
1 large carrot, peeled and julienned
50g dry roasted peanuts, roughly chopped
juice of 1 lime
2 spring onions, finely chopped
handful of fresh cilantro leaves, finely chopped
60ml gluten-free soy sauce (or fish sauce for non-vegan version)
1 tbsp tamarind paste thinned with a little water
2 tbsp brown sugar
a pinch of red pepper flakes
Soak the noodles in lukewarm water for 6-7 min. Then drain and rinse under cool water and set aside in a colander.
In a small bowl, combine together soy sauce,tamarind, sugar, and red pepper flakes.
Heat a large wok over medium heat. Swirl a glug of olive oil in the pan,add in garlic and chilli and stir fry for a few seconds. Remove them from the pan and set aside.
Add into the pan sprouting broccoli, snow peas, baby corn, carrots and red cabbage and stir-fry for a few mins.
Stir in the noodles and sauce and combine with the rest of the ingredients. Add in the garlic and chilli previously set aside and stir-fry for 1-2 min, then remove from the pan.
Squeeze the juice of a lime over the noodles, then sprinkle spring onion, cilantro and roasted peanuts on top and serve.
Store in an airtight container in the fridge for up to 2 days.
-You can substitute tamarind paste with the juice of ½ lime
-You can substitute soy sauce with tamari sauce
-Make sure you do not over cook the rice noodles, otherwise they'll become very soggy.
Recipe by
The Petite Cook
at https://www.thepetitecook.com/the-easiest-vegan-pad-thai/