Spicy Chickpea Freekeh Buddha Bowl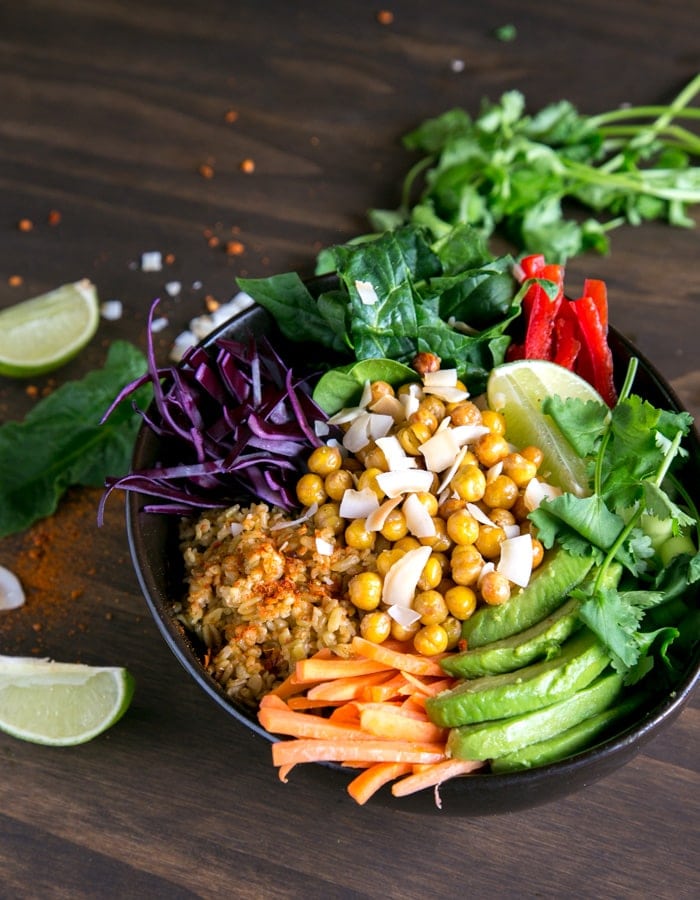 1 can chickpeas, well drained
1 tbsp harissa powder
1 tbsp extra-virgin olive oil
125gr cracked freekeh
1 carrot, peeled and cut into matchsticks
1 wedge purple cabbage, finely chopped
1 avocado, sliced
1 red bell pepper, finely sliced
100gr fresh baby spinach leaves
1 lime, cut in half, to serve
handful of fresh cilantro, to serve
2 tbsp of toasted coconut flakes, optional
sea salt and black pepper
Preheat oven to 200C/400F.
Pat the chickpeas dry with a clean kitchen cloth. Transfer to a bowl and season with harissa powder, olive oil and salt and pepper to taste. Mix through with a spoon, then spread the chickpeas in an even layer on a baking tray.
Bake for about 20 min, until nicely crispy, then remove from the oven and cool a little before use.
In the meantime prepare the freekeh. Add rinsed freekeh to 300ml boiling salted water or vegetable stock. Return to the boil, cover and simmer for 15 min or until tender.
Assemble your buddha bowls: divide the freekeh,chickpeas and all the veggies among two bowls. Top each bowl with half lime, a handful of cilantro leaves and sprinkle with toasted coconut flakes.
Serve immediately.
Recipe by
The Petite Cook
at https://www.thepetitecook.com/spicy-chickpea-freekeh-buddha-bowl/