Asian Beef Salad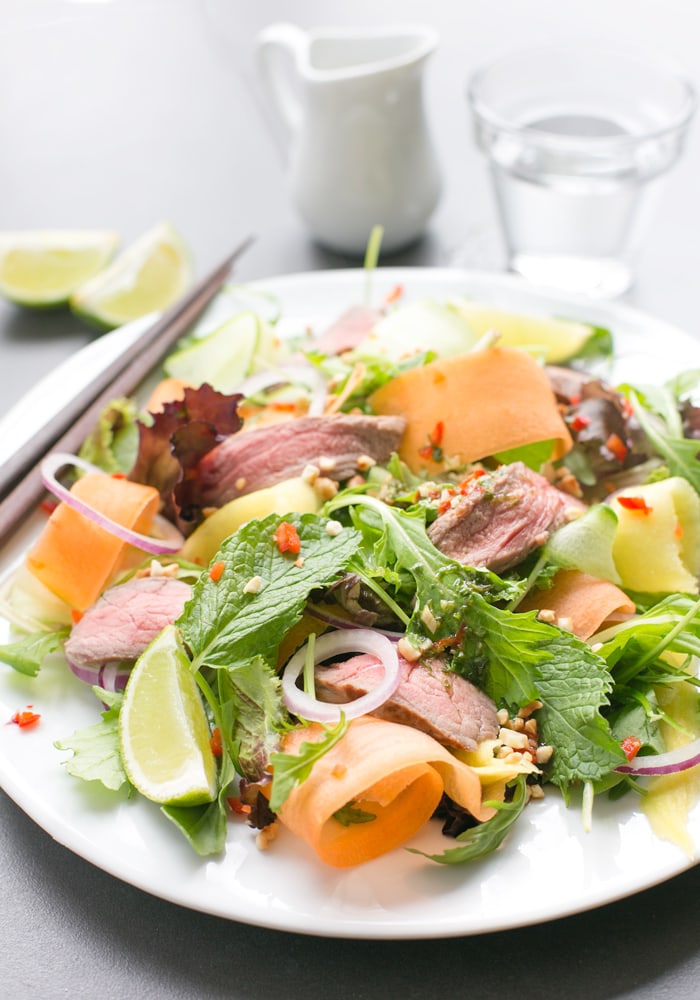 ¼ tsp red chili pepper, finely chopped
1 garlic clove, finely minced
1 tbs fresh ginger, finely grated
pinch of sea salt
1 tbsp fish sauce
2 tbsp lime juice
1 tbsp dark soy sauce
1 tbsp mirin
1 tbsp extra virgin oil
4-5 fresh basil leaves, finely minced
200g 2-inch high Belgian Blue Rump Steak (or another good quality beef steak) at room temperature
a glug of extra virgin olive oil
sea salt to taste
1 medium carrot
1 medium cucumber
½ mango
½ small red onion, very thinly sliced
120gr fresh baby salad leaves
a small bunch of fresh mint leaves
1 tbsp roasted peanuts, finely chopped
For the dressing: simply whisk all the ingredients together in a small jar. Adjust with salt and pepper to your taste.
For the meat: brush the steak with a glug of extra-virgin olive oil and season with a generous pinch of sea salt on both sides. Place the steak on a hot grill (or cast iron skillet). For medium-rare, cook for 2.5 minutes on each side, turning the meat every minute.
Remove the steak from the grill and allow to rest on a hot plate for about 2 minutes, then cut into slices.
Whilst the steak cooks, prepare the salad. Peel and finely slice into ribbons the carrot, cucumber and mango. Then, finely slice the onion.
To assemble your salad, arrange a bunch of fresh baby salad leaves in a bowl, top with carrot, cucumber and mango ribbons, sliced onion, and fresh mint. Add the sliced meat and chopped peanuts, and mix all together.
Divide your salad among two plates and serve immediately with the prepared Asian-style dressing on the side.