Classic Italian Tomato Sauce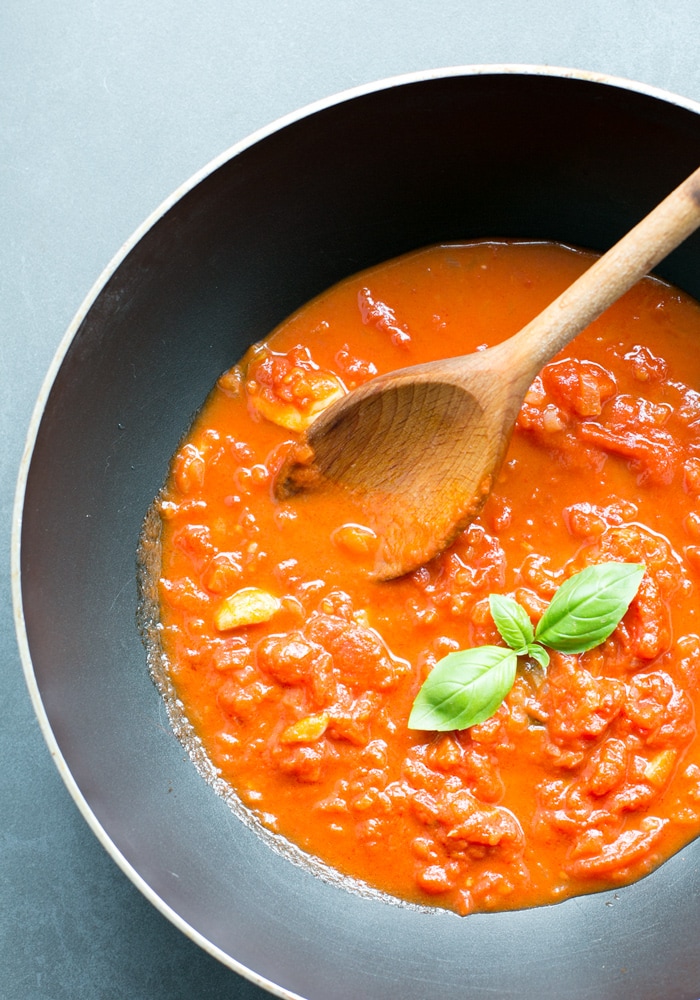 1 medium or 2 small red onions
2 cans (400gr each) organic whole plum tomatoes
1 garlic clove, gently crushed
a bunch of fresh basil leaves
1 bay leave (or a pinch of sugar)
2 tbsp extra-virgin olive oil
sea salt and black pepper to taste
Cut each whole canned tomato in half, remove seeds and juice, roughly chop into chunks, and set aside. Fill the tomato can with water and set aside.
Heat a medium sauce pan with 2 tbsp of extra-virgin olive oil and the garlic over medium low heat.
Gently stir-fry the chopped onion and garlic for about 5 minutes. Cook until the onion is translucent and the garlic golden, then add in the tomatoes. Depending on your taste, discard the clove at this stage or when the sauce is cooked.
Add in a couple of basil leaves., season with salt, pepper and a pinch of sugar (or add a bay leave), and gently stir-fry for a further 5 mins.
Pour in the water reserved earlier, add in a couple of extra basil leaves, and cover the pan with a lid. Cook over low heat for about 15 min, stirring occasionally. Season with salt and pepper half-way through cooking time.
The sauce is ready when it reaches a nice creamy but still chunky texture, and has just the right balance of sweetness and savoury when you taste it.
Use your sauce straight away, or store in airtight glass jars in the fridge for up to 1 week, or freeze for up to 6 weeks.
Recipe by
The Petite Cook
at https://www.thepetitecook.com/classic-italian-tomato-sauce/