Grilled Chicken with Green Bean Potato Salad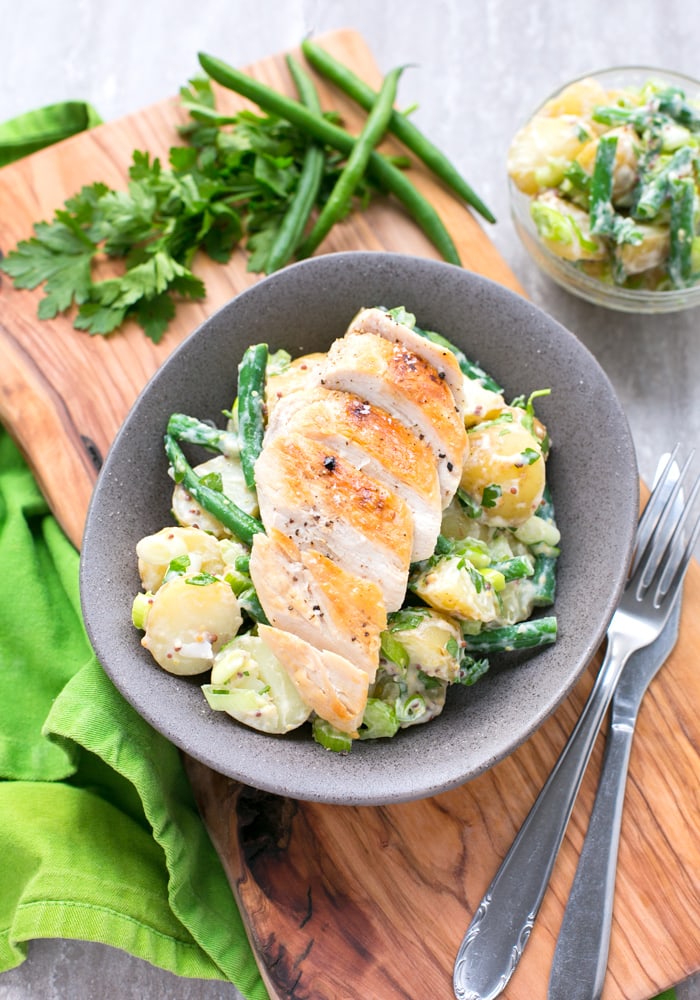 200gr new potatoes
100gr fresh green beans
½ tbsp red wine vinegar
1 tbsp wholegrain mustard
3 spring onions
1 celery stick
a handful of fresh parsley
50 ml of fresh sour cream (I use light sour cream)
2 chicken breasts
a glug of olive oil
sea salt and black pepper to taste
Bring a large saucepan of water with a pinch of salt on to boil.
Chop the new potatoes into halves, and add them into the pan of boiling water.
Cook until just tender, about 10 mins, then remove with a slotted spoon and transfer into a large bowl.
Trim the tops from the green beans and then cut them in half. Add into the same pot where you cooked the potatoes and cook for about 4 min, until just tender but still crisp. Drain the beans in a colander and put them in a bowl of cold water to stop them going soft. Then, transfer into the bowl with the potatoes.
In a small bowl, mix the wholegrain mustard with the vinegar and olive oil. Season with salt and black pepper.
Finely slice the spring onions. Finely chop the celery and parsley and fold them all into the bowl with the potatoes and green beans.
Pour in the prepared vinaigrette, sour cream and mix all the ingredients together. Allow to rest to bring out all the flavour, in the meantime prepare the chicken.
For the chicken, you can leave the breasts whole (but it will take more time to cook), or slice into them from the side so you can open it up like a book. Place the chicken between two sheets of clingfilm. Roll all over the chicken with a rolling pin until it is 1cm thick.
Brush the prepared chicken breasts with a glug of olive oil, salt and pepper to taste on both sides.
Cook on a hot grilling pan for 4 mins on each side, or until cooked through.
Remove from the pan and serve alongside your prepared green bean potato salad.
Recipe by
The Petite Cook
at https://www.thepetitecook.com/chicken-with-green-bean-potato-salad/