Quick Seafood Fresh Pasta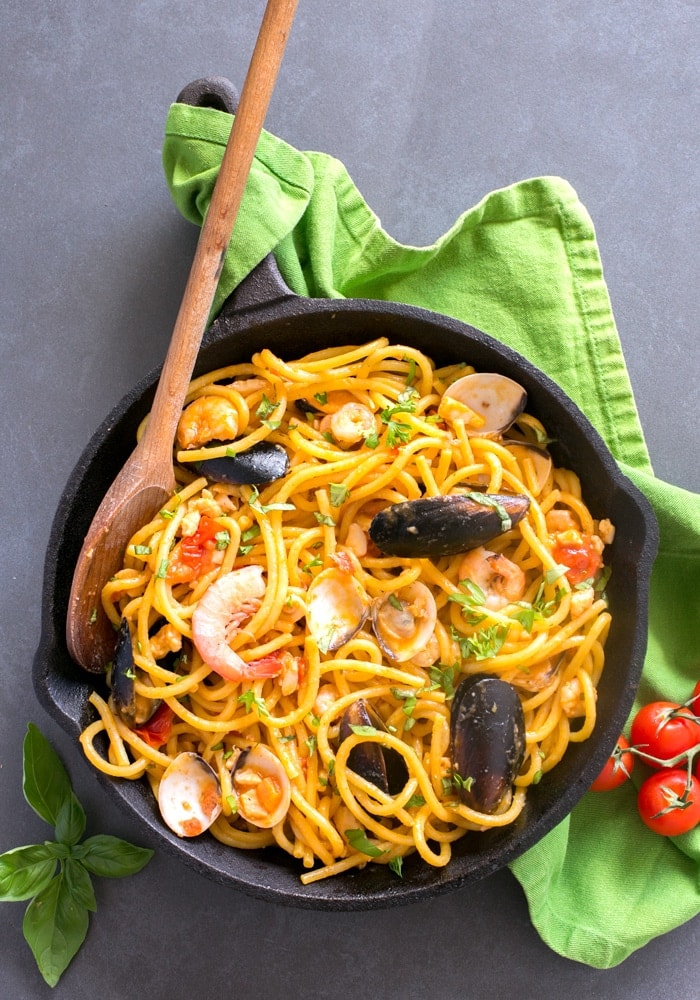 400gr fresh long pasta or regular spaghetti (I've used fresh spaghetti)
1 small red onion, finely chopped
handful of cherry tomatoes, halved
450gr frozen or fresh seafood mix (I've used Iceland Frutti di Mare mix)
2 tbsp extra-virgin olive oil
zest of half lemon
handful fresh parsley, finely chopped
handful fresh basil, finely chopped
sea salt and freshly cracked black pepper to taste
Bring a large pot of lightly salted water to a boil.
In the meantime, heat a large pan with the olive oil, over medium heat.
Add in onion and tomatoes and cook, stirring often, for about 5 mins. Season to taste.
Fold in the seafood mix and continue to cook for a further 5-6 mins, or until the seafood are cooked through.Season with salt and pepper to taste
When the water boils, drop the pasta in and cook al dente, about 2-3 mins if using fresh pasta.
Transfer the pasta into the pot with the seafood sauce and stir all ingredients together. Sprinkle with lemon zest, freshly chopped basil and parsley on top, and drizzle with a little bit of extra olive oil if you like. Serve immediately, family-style directly from the pot.
Recipe by
The Petite Cook
at https://www.thepetitecook.com/quick-seafood-fresh-pasta/