Cheeseless Cauliflower Mac and Cheese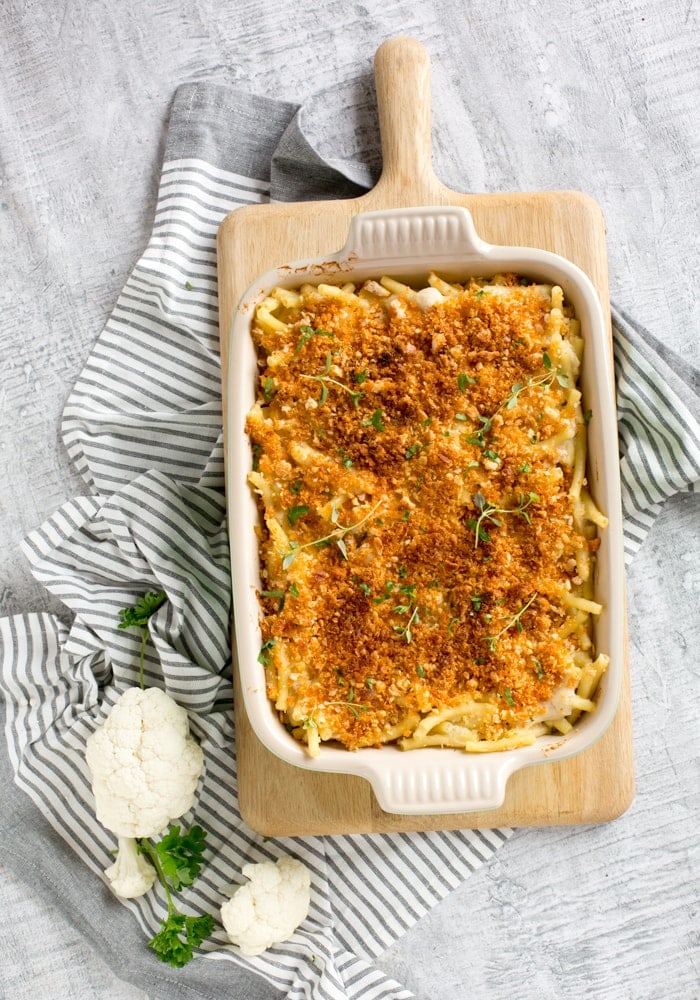 350 gr - 12oz macaroni pasta (or other short pasta)
250 ml - 1 cup Cauliflower Alfredo Sauce
90 gr - 1 cup panko breadcrumbs
1 tsp sweet paprika
¼ tsp nutmeg
1 tsp fresh thyme leaves
1 tsp fresh oregano leaves (optional)
1 tsp chopped garlic
1 tbsp extra virgin olive oil, plus extra as needed
Preheat oven to 180C/375F.
In a large pot of lightly salted boiling water cook the pasta al dente, about 3 mins before cooking time.
Drain pasta al dente and transfer back in the pot. Pour in the warm Alfredo cauliflower sauce and mix until combined.
In a small bowl combine together panko breadcrumbs, paprika, nutmeg, thyme and oregano leaves and chopped garlic. Season with 1 tbsp olive oil, salt and white pepper to taste and mix all ingredients together.
Brush a medium baking dish with olive oil, then add in the pasta and distribute evenly. Scatter the seasoned breadcrumbs all over the top and drizzle with a little more olive oil.
Bake until crispy and golden on top, about 10 minutes.
Serve immediately, store leftovers in an airtight container and refrigerate for up to 3 days.
Recipe by
The Petite Cook
at https://www.thepetitecook.com/cauliflower-mac-and-cheese/