Thai Turkey Meatball Soup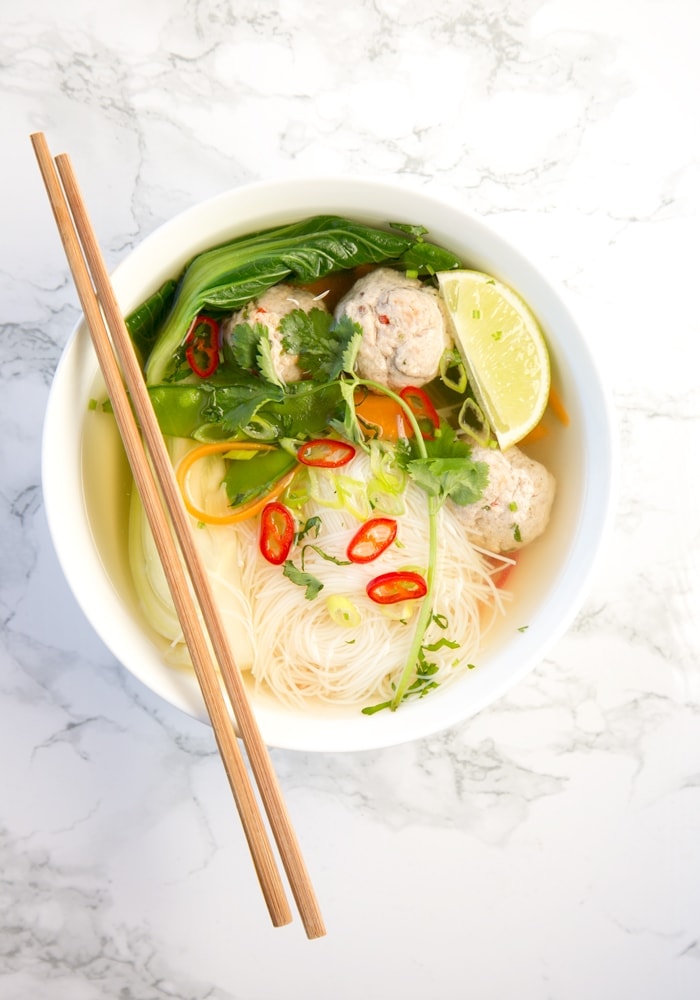 350gr turkey mince (or chicken mince)
2 slices of fresh bread ( I used a gluten-free multigrain loaf)
100ml milk ( I used fresh semi-skimmed a2 Milk™)
2 spring onions, finely chopped
½ tsp fresh ginger, grated (or ¼ tsp ginger powder)
1 tbsp fresh cilantro, finely chopped
zest of half organic lime
2 tsp fish sauce (optional)
1 red chili pepper, finely minced
1.2lt homemade chicken or vegetable stock
½ tsp fresh ginger, grated
1 tbsp fish sauce
1 pak choi, sliced lengthwise
1 carrot, peeled and finely sliced lenghtwise
150gr snow peas
250gr thai rice noodles
1 lime, cut into wedges
handful of fresh cilantro
2 spring onions, finely chopped
1 red chili pepper, finely sliced
Place all the broth ingredients in a big pot and bring to a boil. Turn off the heat and leave to infuse while you get on with making the meatballs.
In a small bowl, pour enough milk over the bread to moisten, and let it soak for 5 minutes.
In the meantime, place the meat in a large bowl and season with a little salt and pepper.
Fold in chopped spring onions, grated ginger, cilantro, lime zest and fish sauce, and mix together with the meat until well combined.
Use your hands to squeeze the excess milk out of the bread, it should be soft and moist. Tear the bread into small chunks, add them to the bowl along with the other meatballs ingredients, and mix until combined.
Shape the mixture into tablespoon-sized balls, you should get about 20-22 meatballs.
Drop the meatballs in the hot broth, cover and simmer for 10 minutes. Add pak choi, snow peas and carrots and continue to cook for an extra 5 minutes.
Meanwhile, in a small pot, cook the noodles according to the packet instructions.
Drain the noodles, divide between four soup bowls, and put 3-5 meatballs on top of each portion.
Ladle the broth into the bowls, garnish with cilantro, spring onion, fresh chili and lime wedges, and serve.
Recipe by
The Petite Cook
at https://www.thepetitecook.com/thai-turkey-meatball-soup/